Joan Aiken Interview
| | |
| --- | --- |
| Joan Aiken | |
| Interview by Gavin J. Grant* | |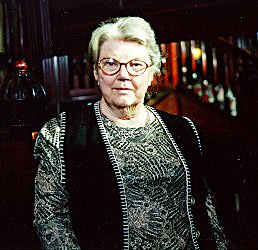 Joan Aiken is the author of the Wolves of Willoughby Chase series of young adult books, as well as more than 60 other books ranging from children's pop-up books to a nonfiction book, The Way to Write for Children. Her latest books are Shadows and Moonshine and A Necklace of Raindrops. She is not online and writes using a typewriter, so we sent our list of questions to her by mail. She was good enough to promptly return her answers along with a friendly note (that's her signature down there!). Aiken lives with her husband in Sussex, England.
BookSense.com: When did you begin writing? What were your influences?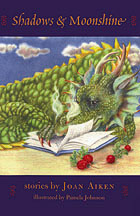 Joan Aiken: I began writing on my 5th birthday, when I bought a writing pad with birthday money and began filling it with poems and stories. The stories were very short. One, "Her Husband was a Demon," based on a dream, was longer. When I went to school at age 12, two books in the school library, John Masefield's The Midnight Folk and The Box of Delights, influenced me very much in my first full-length novel, written at age 16 or 17. But other influences were multifarious, since I read so much as a child -- E.E. Nesbit, Francis Hodgson Burnett, Charles Dickens, Saki, James Thurber, and Edgar Allan Poe.
I have read that, when writing a book, you used to read it to your children, as they were the best critics. While writing, do you still read your books to children?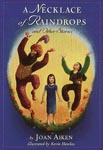 I have read my books to my grandchildren, who seemed to enjoy them and were not as critical as my children -- but perhaps a grandmother is thought to be above criticism.
What do you feel is the difference between writing for adults and writing for children? Do you plan the piece or work differently?
As far as I am concerned an autopilot takes over to change the mode between writing for adults and writing for children. There are many differences -- the vocabulary is simpler, the style more direct. The pace is faster when writing for children, who soon become bored by descriptions of thought-processes, flashbacks, overlong descriptions. There is no great difference in the structure of plots. Characters in children's books are simpler and more strongly defined, like those in Morality plays -- personified abstractions.




For many people (in the U.S.), the Wolves of Willoughby Chase and its follow-up books are deeply associated with illustrator Edward Gorey, who died last year. Do you feel similarly about the relation of Gorey's pictures to the books? Does losing his art affect how you think about writing the series?
In fact, Edward Gorey did not illustrate the Wolves series -- in England they were illustrated by Pat Marriott, in the U.S. by Robin Jacques, Susan Obrant, and others. Latterly, Gorey did the jackets. I loved those, and am sad and grieved at his loss, but his work was not associated in my mind with the writing of these stories.
One of the interesting things about that series is the lack of a fixed main character. The Wolves of Willoughby Chase focused on Bonnie and Sylvie. Dido Twite then became the main character, but the last three books have centered on Is. What makes you decide to shift main characters in a given book?
Lack of a main character: Of course when I wrote Wolves I had no idea that the book would take off in the way that it did. Its success encouraged me to write a sequel, and I intended Dido Twite to die at the end. But a heartbreaking letter from an American child -- "Why did she have to die? She was such a good character" (with no address on the letter so I was unable to reply) obliged me to rescue her from the sea in Nightbirds on Nantucket. From then on I had become addicted to her. Letters from readers asking if she was going to marry Simon alerted me to the fact that she was becoming too much of an adult, so I introduced Is. Another book, unfinished at this time, returns to Dido. A slight supernatural element may be introduced.




Which illustrators have you enjoyed working with the most?
I have been blessed with my illustrators. Pat Marriott produced exactly the type of pictures I had envisaged for the Wolves chronicles. Jan Pienkowski did wonderful eye-catching illustrations for the younger children's stories. And Quentin Blake was absolutely perfect for Arabel and Mortimer.
In recent years you've been writing novels connected to Jane Austen's novels. Are these as much fun to write as they are to read? What inspired you to write these continuations?

I had written a series of plays for the BBC Schools programmes. Each episode was discussed by a committee and the process was slow. Hung up on this, I had the idea one night lying in bed to write a sequel to Mansfield Park about the heroine's sister who replaces her as Lady Bertram's dame de campagnie -- it was great fun to write, just slipped off the typewriter and nicely filled in the BBC gaps. So that got me started ...
Are there any other authors whose works you would like to continue?
No, there are plenty of other writers whose work I greatly admire, but not to the point of writing sequels.
Have you ever collaborated with another writer?

No, I've never collaborated with another writer -- except my daughter Liz, writing a huge number of episodes for a BBC TV series about Arabel and Mortimer the raven.
When your books are published in the U.S., do you do the changes, or does someone else?
When my books are published in the U.S. someone else does the changes and I argue about them.
Do you still write for, or are you at all involved with any magazines? Are there any magazines that you regularly read?

No, I don't any longer write for any magazines, though one occasionally picks up a short story from a collection. I regularly read the Times Literary Supplement, and when it comes my way, The New Yorker.
Do you, or have you ever, written poetry?
Yes, I have written poetry and still do occasionally. One collection, The Skin Spinners, was published in the U.S. and is now out of print. A new story collection, to be published in the U.K. by Cape, Ghostly Beasts, has a few poems interspersed with the stories.
Who are your favorite children's book authors?

The list would be so long that it would cover pages. To name a few, George Macdonald, E.E. Nesbit, Francis Hodgson Burnett, John Masefield, T.H. White, J.RR. Tolkien, Laurence Houseman, Walter de la Mare, Rudyard Kipling, Kastner, Peter Dickinson, Philippa Pearce, Susan Cooper, Barbara Willard, E. Weatherall (she wrote The Wide Wide World). I could go on and on.
Do you think more adults will read children's books after Philip Pullman's and J.K. Rowling's recent successes?
Yes, Philip Pullman and J.K. Rowling seem to have had a galvanizing effect on the children's book market.
Are you working on anything?
I am working on a new Dido Twite story called Midwinter Nightingale, but it has been blocked by the illness of my husband who has recently needed so much care that it left little energy for anything else. But I don't despair about it. Dangerous Games was first started in 1958 and had a 40-year incubation.
What have you been reading recently?

I have mainly been reading comfort books lately, due to the above. Comfort books are 19th century fiction, George Eliot, Trollope, Jane Austen, Charlotte Bronte. But I did read and enjoy The Amber Spyglass and Nuala O'Faolain's autobiography, Are You Somebody?
Do you have a good local bookshop?
Yes, I have a small but excellent local bookshop which, if it has not got what I want in stock, will order and usually get it within a couple of days. The only book I can't get hold of is an amazing school story, Gentleman's Daughters, by Margaret Masterman, published in the '30s and long out of print. If anyone has a copy I'll pay whatever they ask, within reason.
And to end, a couple of questions from young readers, Madelyn and Liza Schwartz (ages 12 and 8):
What scares you? Do you ever get scared writing about these scary things?

What scares me? Gangs, irrational rage, people who can't be reasoned with. I don't think I'd be scared of the supernatural, but then I have never really encountered it. I think I would be more interested than scared if I did.
Has anything supernatural/scary/wicked ever really happened to you?
About five years ago I was alone in the house at night and woke to see a torchlight [flashlight] flickering on my bedroom ceiling; I realized that someone was climbing up a ladder to my window. That was pretty startling, but I called the police on my bedside phone and the intruder made off leaving the ladder (mine) before the cops arrived. That left me nervous at night for a while, but the effect has worn off.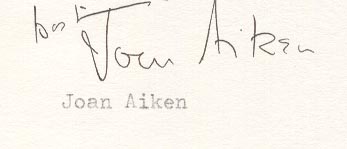 * With a little help from some friends: Thanks to Veronica Schanoes, Kelly Link, and Madelyn and Liza Schwartz (ages 12 and 8).
---
A Necklace of Raindrops

Author photo by Beth Gwinn. Gwinn was the photographer at the "Down from the Mountain" concert in May 2000, which featured music from the Coen brothers film, "O Brother Where Art Thou." Earlier this year she published a collection of her photographs of authors of fantasy and horror, Dark Dreamers, with text by Stanley Wiater.
Further reading:
Jonathan Carroll
Ray Bradbury
Molly Gloss
Great writers for kids:
Lois Lowry
Brian Selznick
Chris Crutcher
Jane Yolen