Ray Bradbury Interview Part 1
| | |
| --- | --- |
| Ray Bradbury | |
| Interview by Gavin J. Grant | |
Recently we had the chance to speak with Ray Bradbury about writing, reading, and that wonderful family, the Elliotts. In fact, because of some phone trouble, we got to speak with him twice! Bradbury was feeling pretty cheerful. In August he celebrated his 81st birthday, and last year he received the National Book Foundation's 2000 Medal for Distinguished Contribution to American Letters, which will probably sit quite nicely along with all his other awards (including the O. Henry, the Benjamin Franklin, the World Fantasy Award, the Nebula, and the Grand Master Award from the Science Fiction Writers of America).

Bradbury is known to readers around the world as a master of the short story (Driving Blind, I Sing the Body Electric), but he has also written mysteries (Death is a Lonely Business) and children's books (Switch on the Night), as well as plays, poetry, and films. Next spring he has a new collection of short stories due, and this October ("Ray Bradbury Month"), Bradbury's latest novel, From the Dust Returned, will be published. From the Dust Returned builds on stories about the Elliott family which have appeared in magazines and collections over the years, and makes of them a wonderful story where the house the Elliott family lives in is as much a character as the very friendly -- and winged -- Uncle Einar, or A Thousand Times Great Grandmere (the mummy of the family), or Tim, the orphan found on the doorstep and raised to be the family historian.
BookSense.com: Was it difficult to pick up the story of From the Dust Returned?
Ray Bradbury: No, no. I'm not in charge. My subconscious does all the work. When it's ready to do something it does it. I don't think about these things -- they just happen automatically. Time passes, sometimes you finish things quicker -- in a week or a month, sometimes it's two or three years, and in this particular case about 55 years.
In that time, were you writing pieces of it?
Here and there, but I didn't work at it a lot. Maybe once a year.
Would you be tempted to write more of these stories about the Elliott family in the future?
You never know the reasons why you do things. I've never intellectualized about my work: Where the stories come from, why they develop the way they develop, I simply don't know that. It's all kept a secret from me. I think that's why people like my work, because they know it's very honest work, very intuitive, and it's very dreamlike. These things come to me a lot of times while I'm waking up in the morning around 7 o'clock. I don't dream things, but there's a time between waking up and being fully awake when your mind is relaxed and things come to you and you are surprised by them and you jump out of bed and run and write them down. So that happens to me all the time.
Has that always happened to you?

That happens with, I would say, 60% of my work. I don't believe in dreams. People say, "Have you ever dreamt a story?" That's never happened to me. I do believe in that relaxed state that when you're waking up you're not thinking intellectually, but you're perceiving things in that state before you're fully awake.
Was it the same way 50 or 40 or 20 years ago?
No, I learned to relax and enjoy myself better starting about 40 years ago. Fifty years ago I thought about my stories much too much. I benefited from relaxing and enjoying my intuitive self later in life.
Why did you decide to novelize From the Dust Returned instead of making it a collection of short stories?

I don't decide these things. When you look at most of my so-called novels they're not novels at all. The Martian Chronicles is looked upon as a novel, it isn't. It's a collection of short stories that I wrote without realizing they were related to each other. Then, very late in time I put them all together and they were put into a book that looked like a novel. The same way with Dandelion Wine: a collection of short stories that I put together and made to look like a novel. The same way with Green Shadows, White Whale, a collection of my stories about Ireland and John Huston. So I think of all the writers who are writing today -- for that matter, at any time -- I'm very unusual in that I write a series of short stories, and then very late on in time, discover I've written a book. And that's true here, too.
The excellent cover of From the Dust Returns is the original art created by Charles Addams for your story "Homecoming" in Mademoiselle magazine. Did you have a picture of the house in your head before you saw Charles Addams' painting?

No, I depended on Charles Addams. We had similar imaginations, that's why we got on so well. I was 26 years old when I met him in New York and he had just done that painting for Mademoiselle. When I saw it I realized he was a kindred spirit so we made plans to write a book together. I was going to do the stories, and he was going to do the illustrations. But time went by and we couldn't find a publisher who would pay a little bit of money to him and a little bit to me to proceed with the book. So he went his way and created the Addams Family and I went my own way and created my family in this book. In a way we're quite similar, except finally we separated and he did his wonderful family and made his television show and motion pictures and here I am now very late in time with a somewhat similar family, but not quite as funny!
The Elliott family is occasionally funny, but they're pretty dark.
It's a strange family, isn't it? They're all related to my family. A lot of it's based on my childhood, my Aunt Neva, and my grandmother.
Where did the name "Neva" come from?
It's the short form of Nevada. My grandfather had silver and gold mines out in Nevada when my aunt was born. But the damn things turned out badly -- there was no gold and no silver. He lost all of his money in his gold and silver mines. In the meantime, my aunt was born. When he returned from Nevada he named her Nevada, and it became Neva over time.
Did your family find it strange when they saw themselves in your stories?
Well, none of my family were around when those first stories were published -- just my aunt Neva, and she was very pleased that I put her in these stories. I dedicated The Golden Apples of the Sun to her.
Which of the characters in From the Dust Returned is your favorite?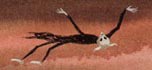 Oh, I think my Uncle Einar. The story "Uncle Einar" is based on my real Swedish relative. My mother was born in Stockholm and she came to the U.S. when she was 2 years old. She had five brothers and sisters and one of them, Einar, was my favorite uncle of all my Swedish uncles. He was very loud and boisterous and happy and he came to visit usually about once a week. He worked for a laundry in my hometown and he would come to the house and bring my mother's laundry and we would always have a great visit. I grew up with him and I loved him so much that later I put wings and flew him in the sky and he became that short story. Of course, he was very happy about that. He lived a long while.
Were your family storytellers?
My aunt Neva was, and she lived next door to me, so she was a very important influence. She introduced me to the Oz books, and read the Oz books to me when I was a child, and Alice in Wonderland and Grimm's Fairy Tales. She encouraged them. She read Edgar Allan Poe to me when I was eight or nine years old. These were very deep and continuing influences.
Did you do drawings to accompany these stories?
I've drawn primitive sketches of Uncle Einar, because I loved his wings, but they weren't worth looking at.
Are you happy with the way From the Dust Returned turned out?

It's a complete surprise, like everything of mine. Sometimes, late at night, if I can't sleep I go downstairs and I take one of my books off the shelf and I open it and read it and I'm always astounded at what I read. I say to myself, "My god, did I write that?" I feel very lucky. Everything of mine is god-given. I think I was born with a genetic talent -- I think we're all born to become ourselves and our job in life is to find out just who in hell we are, because we don't always know that immediately. Over a period of time you experiment and try and find out where your true self lies. Writers are very lucky because they can experiment with their typewriter or with their handwriting and over a period of 10 or 15 years discover who they are. All of my books are revelations of what I was born with, and I've been lucky to be able to direct myself and find these stories along the way.
---
Part 2
of our fascinating interview with Ray Bradbury, in which he talks about films, Halloween, and how the future looks to him!
---
From the Dust Returned