Doreen Cronin and Betsy Lewin Interview
Doreen Cronin and Betsy Lewin
interviewed by Linda M. Castellitto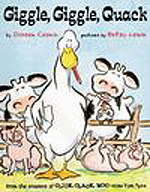 Doreen Cronin and Betsy Lewin are the author-and-illustrator team behind the 2003 Book Sense Book of the Year Illustrated Children's Fiction nominee Giggle, Giggle, Quack -- a hilarious follow-up to the pair's Caldecott Honor book Click Clack Moo: Cows That Type.
We were lucky enough to email with both women and ask them questions about their careers, how they work together, and the impish animals in their lives.
BookSense.com: Ms. Cronin, you were an attorney in Manhattan before you became a full-time children's-book author. What brought about your career change?
Doreen Cronin: Like most writers, it took me many years and hundreds of rejection letters before I was fortunate enough to be published. I think most writers start out with a dual career, i.e., one as a "writer" and one that pays the bills (lawyer, accountant, teacher, etc.). After my first book, Click Clack Moo, was published, I juggled both law and writing. Finally, it was time to make a choice, and it was essentially a no-brainer.
What did you learn as a lawyer that has helped you as a writer, or vice versa?
DC: Being a lawyer certainly helps when it comes to negotiating and understanding publishing contracts! Other than that, a sense of humor comes in very handy in both professions (or any profession, for that matter).

When you wrote the books, did you have an illustrator -- or an illustration-style -- in mind? How did you end up working with Ms. Lewin?
DC: I had a very, very loose abstract picture in my head of what the animals might look like. Betsy's illustrations are, in a word, perfect. It was the publisher who decided after reading the manuscript that Betsy would be the one.
Do you know anyone like Bob, Farmer Brown, or Duck? Are your characters ever, or often, based on people (or animals!) you know?
DC: I think Bob and Farmer Brown are compilations of people I know! Duck is essentially me and every other mischievous child I've ever known and loved.
Ms. Lewin, have you held other jobs in addition to that of book-illustrator?
Betsy Lewin: I worked in greeting cards, did some magazine and corporate brochure illustration, and wrote and illustrated stories and poems for Humpty Dumpty, a magazine for children. I have also acted as a rep for my husband, Ted, since 1979. He doesn't really need me anymore, but I still handle his contracts, etc., out of habit.
What illustrators influenced your interest in art, and your creative process (whether as a child or later on)?
BL: As a child I loved the illustrations of Ernest Shepard, A.B. Frost, and Beatrix Potter. I was also greatly influenced by movie cartoons: Disney, Walter Lance, and Loony Toons.
Later, Tiepolo, Rembrandt, and Goya -- particularly their sketches -- and Daumier, plus contemporary illustrators James Stevenson and Quentin Blake. (This is always such a tough question! Where do you stop?!)
I read in the flyleaf of Giggle, Giggle, Quack that you did brush drawings, which you then photocopied so you could experiment with various color washes until you found the balance and color you like. Is this a technique you use for all of your books? What inspired you to use this method?
BL: I do use this method a lot. Because my drawing is spontaneous, I want to keep that freshness. I draw on tracing paper, and can add to or change the drawing by using overlays of the tracing paper. Don't like the cow's legs? Tear them off and add different ones. Don't like the facial expression? Tear off the head and add a different one. And so on. My finished drawing looks like the Frankenstein monster, but all those seams and tape disappear on the photocopy. I learned this method by word of mouth. I can't remember the source. I sometimes draw directly onto my watercolor paper. It just depends on the project.
I saw on your website that you often collaborate with your husband, Ted. Can you tell us about some of your projects?

BL: Ted and I always travel together and have the same experiences. Usually, when we return home, each of us has a different idea for a book. Ted leans more toward personal account, and I most often come up with a humorous idea. But, when we went to Uganda to see the mountain gorillas, it was an extremely difficult and exhausting trek. Since we had shared the misery, we decided to share the telling of the story, Gorilla Walk. We'd always been looking for a project to collaborate on and this was perfect for combining our two artistic styles.
My "field sketches" (mostly drawn from memory back home in my studio) lead the reader through the story experiencing our mishaps and thrills. Ted's double-page spreads of our objective (in this case, mountain gorillas) put the reader right there with us.
That book was very successful and we've done another, Elephant Quest, set in the Okavango Delta in Botswana. We're working on one right now about our travels in Australia, and we have four or five more lined up with the same publisher, HarperCollins.
Ms. Lewin and Ms. Cronin, please tell us a bit about the collaborative process you share, and how things work when creating an illustrated book...

DC: It's actually pretty funny, but one of our major concerns is whether the actions in the book are "true to character." The original version of Giggle, Giggle, Quack had Duck answering the phone when Farmer Brown calls to check in. Betsy was adamant that Duck would never be dumb enough to answer the phone! She was right!
BL: Authors and illustrators don't usually work together. In fact, they often never meet one another or even talk on the phone. They usually communicate through editors and art directors. Sometimes it's because they live far away from each other.
Doreen and I met after Click, Clack, Moo was released -- due mainly, I think, to the book's instant success. Since then, we've become good friends and enjoy a give-and-take collaboration. Each of us is eager for the other's comments and/or advice.
The animals in Giggle, Giggle, Quack are adorable -- and clever! Do you have any impish animals in your lives?
DC: My husband and I have a westie named Ruffie, who like most creatures, rules the house. There are also two spiders that live in my office that I simply cannot bring myself to harm.
BL: I've had many impish animals in my life. We now have a one-eyed tabby named Chopper, who likes to drink from the faucet and speaks English. His favorite expression is "Oh, my God." We also have a black cat named Slick, who is addicted to rubbing on plastic bags.
What were/are your favorite kids' books?

DC: Harold and the Purple Crayon is my favorite children's book. It's so basic: boy with crayon and imagination. The possibilities are limitless. As far as humor goes, I love The Stupids series by James Marshall. I'm also a huge Babette Cole fan.
BL: Then and always: Winnie the Pooh, Peter Rabbit, and Uncle Remus Tales. Now: Charlotte's Web.
What are your favorite bookstores?
DC: This is an impossible question. Last year, Betsy's and my tour for Giggle, Giggle, Quack took us to dozens of independent bookstores in Illinois, Minnesota, Tennessee, and Ohio. One of the best things about independents is that they are each unique.
One independent put on a full-blown musical production of Giggle, Giggle, Quack and another brought in live pigs and ducks for our visit! How could I possibly choose?
BL: There aren't many independent book stores near us in Brooklyn. I like Book Court on Court Street. My favorite is BookTenders in Doylestown, PA.
What are you reading now?

DC: Revenge, A Story of Hope by Laura Blumenfeld; Don't Let's Go to the Dogs Tonight, An African Childhood by Alexandra Fuller; and Of Paradise and Power: America and Europe in the New World Order by Robert Kagan. Oh, and When Everybody Wore a Hat, by William Steig!
BL: Don't Let's Go to the Dogs Tonight by Alexandra Fuller.
Have you done any touring, together or separately?
DC: Betsy and I just got back from Salina, Kansas, a beautiful town. We also recently spent two days in Michigan visiting with school kids. And, as I mentioned, Betsy and I did a whirlwind Midwestern tour last year for Giggle, Giggle, Quack. We hope there will be more tours in the future!
---

Giggle, Giggle, Quack was a Spring 2002 Kids' Book Sense 76 Pick:
"Cronin and Lewin have done it again! A clever and hysterical text paired with perfect, expressively hilarious illustrations. Readers will gladly welcome back these 'clever critters' and revel in their escapades as they follow their duck!" -- Ellen Mager, Booktenders Children's Bookstore, Doylestown, PA