Fish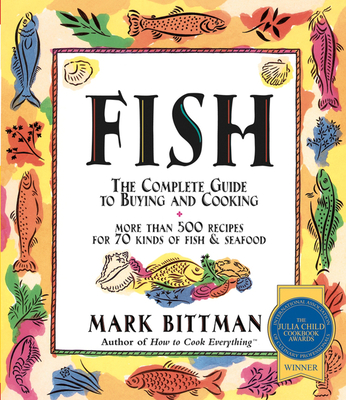 Fish
The Complete Guide to Buying and Cooking
Houghton Mifflin, Paperback, 9780028631523, 367pp.
Publication Date: January 12, 1999
* Individual store prices may vary.
Buy Now
or
Shop Local
Enter your zip code below to purchase from an indie close to you.
Description
Fish: The Complete Guide to Buying and Cooking is a book that simplifies, once and for all, the process of preparing fish. Organized in an easy-reference, A-Z format, Fish gives you the culinary lowdown on seventy kinds of fish and shellfish commonly found in American supermarkets and fish stores. Each entry describes how the fish is sold (fillets, steaks, whole, salted), other names it goes by, how the fish should look, and buying tips. Fish begins with general guidelines on how to store, prepare, and cook fish, whether sauteing, frying, grilling, or smoking, and you will find easy-to-follow illustrations of such important basics as how to gut and fillet a fish. Fish also includes up-to-the-minute information on the health benefits of fish in our diet. In addition, there are more than five hundred recipes and variations, all of which use low-fat, high-flavor ingredients to accent the intrinsic natures of the individual fish rather than mask them. And the vast majority of the recipes are ready in less than thirty minutes.
About the Author
MARK BITTMAN is one of America s beloved, best-known and most widely respected food writers. He covered food policy as an Opinion columnist for The New York Times for 5 years, produced "The Minimalist" column for 13 years, and has starred in several popular television series, including the Emmy-winning Years of Living Dangerously. He recently left the Times to devote his time to cookbooks, teaching at Berkeley, and working on food movement strategy with the Union of Concerned Scientists. He also co-founded Purple Carrot, the national company that delivers weekly vegan meal kits. Bittman has authored more than a dozen cookbooks, including the best-selling How to Cook Everything(r), How to Cook Everything(r) The Basics, How to Cook Everything(r) Vegetarian (all available as apps), How to Cook Everything(r) Fast, Food Matters, and VB6: Eat Vegan Before 6:00. For more information go to markbittman.com.