Ignorance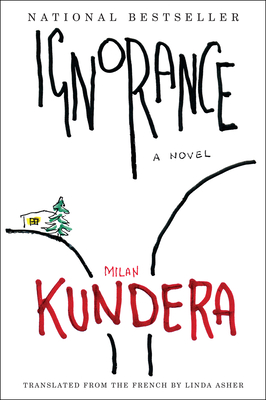 Ignorance
Harper Perennial, Paperback, 9780060002107, 208pp.
Publication Date: September 2003
* Individual store prices may vary.
Shop Local
Enter your zip code below to find indies closest to you.
Description
A New York Times Notable Book
Irena and Josef meet by chance while returning to their homeland, which they had abandoned twenty years earlier. Will they manage to pick up the thread of their strange love story, interrupted almost as soon as it began and then lost in the tides of history? The truth is that after such a long absence "their memories no longer match."
About the Author
The Franco-Czech novelist Milan Kundera was born in Brno and has lived in France, his second homeland, since 1975. He is the author of the novels The Joke, Farewell Waltz, Life Is Elsewhere, The Book of Laughter and Forgetting, The Unbearable Lightness of Being, and Immortality, and the short-story collection Laughable Loves all originally written in Czech. His most recent novels Slowness, Identity, and Ignorance, as well as his nonfiction works The Art of the Novel, Testaments Betrayed, The Curtain, and Encounter, were originally written in French.
Praise For Ignorance…
"Erudite and playful...An impassioned account of the émigré as a character on the stage of European history."
-Maureen Howard, New York Times Book Review

"Milan's Kundera's resonant new novel IGNORANCE ….[is] wonderfully nuanced …. affecting."
-Michiko Kakutani, New York Times

"Moving … There is a painful injustice and inequality to memory, which these encounters beautifully illustrate."
-Boston Globe

"Literary excellence … [Kundera's] irony and wit are …on target, his characters vivid and convincing."
-Los Angeles Times Book Review

"By far his most successful [novel] since THE UNBEARABLE LIGHTNESS OF BEING."
-Los Angeles Times Book Review

"Kundera once more delivers a seductive, intelligent entertainment … [with] elegance and grace."
-Washington Post Book World

"Nothing short of masterful."
-Newsweek

"[A] beautifully written tale of desire and loss."
-Newark Star Ledger

"Elegant … the emotional and intellectual payoff is extraordinary."
-Time Out New York

"Precise and spare …page by page this novel is dazzling."
-Montreal Gazette

"Rendered with compassion and humor."
-Library Journal

"An entertaining and thought-provoking work"
-Milwaukee Journal Sentinel

"Kundera is and elegant writer … He does a masterful job of reminding that the political is the personal."
-Rocky Mountain News

"A tour de force."
-Atlanta Journal-Constitution