The Vineyard Kitchen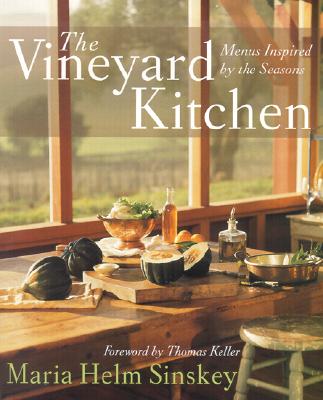 The Vineyard Kitchen
Menus Inspired by the Seasons
HarperCollins Publishers, Hardcover, 9780060013967, 390pp.
Publication Date: September 2, 2003
* Individual store prices may vary.
Buy Now
or
Shop Local
Enter your zip code below to purchase from an indie close to you.
Description
In this age of celebrity chefs and rarefied ingredients, it is a great pleasure to publish this creative and wholesome collection of recipes, The Vineyard Kitchen, by Maria Helm Sinskey. In her debut book, Maria shares the homey yet sophisticated recipes that have made her one of America's most celebrated chefs and a culinary star. Though Maria lives in the Napa Valley, she was born and raised in the Northeast, and her recipes capture seasonal availability and flavors, no matter where you are cooking.
Maria offers 40 menus, 10 per season, with more than 180 recipes to enjoy all year round. From her kitchen in Napa, where she runs a vineyard with her husband and raises her two young daughters, Maria looks out onto a landscape whose seasonal bounty is reflected in each recipe. Emphasizing quality ingredients, her dishes are simple and pure, focusing on the freshness and flavor of each element, rather than on fussy or complicated preparations. These are dishes that celebrate the unique offerings of each season and that perfectly suit our shifting appetites as the days go from short to long and as our dining table moves from fireside to patio.
Delight in summer with the annual ritual of shucking fresh corn, and transform the harvest into a velvety Sweet Corn Soup with Rosemary; savor the summer-only treat of White Peaches Poached in Vin Gris with Raspberries. When the weather turns wintry, you won't feel deprived with Maria's soothing Nutmeg Custard or with a stunning meal of Parsnip Soup followed by Duck Confit with French Green Lentils. Complete with wine pairings and seasonal shopping tips, The Vineyard Kitchen is a friendly, comprehensive guide that will help you create distinctive, tempting dishes throughout the year.
About the Author
Named one of the "Best New Chefs in America" by "Food & Wine" magazine, Maria Helm Sinskey is one of California's most renowned young chefs. Formerly the executive chef of PlumpJack CafE in San Francisco, she now provides culinary direction and cooking classes at Robert Sinskey Vineyards, the Napa Valley winery she owns with her husband.

Thomas Keller was named "America's Best Chef" by "Time magazine and is the only person to receive consecutive "Best Chef" awards from the James Beard Foundation. "The French Laundry Cookbook (Artisan, 1999) won an IACP trifecta: "Cookbook of the Year," "Best First Cookbook," and "Best Photography." Keller has opened a Bouchon at the Venetian Hotel in Las Vegas and two Bouchon Bakeries--one in Napa and one in New York City, where he has also opened Per Se.