Today I Feel Silly & Other Moods That Make My Day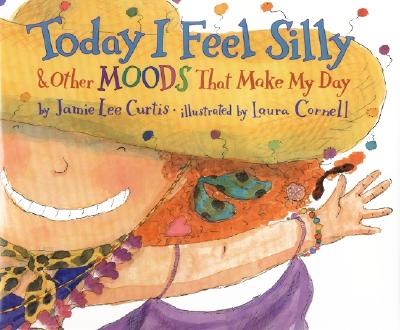 Today I Feel Silly & Other Moods That Make My Day
Joanna Cotler Books, Hardcover, 9780060245603, 40pp.
Publication Date: September 22, 1998
* Individual store prices may vary.
Buy Now
or
Shop Local
Enter your zip code below to purchase from an indie close to you.
Description
Today I feel silly. Mom says it's the heat.
I put rouge on the cat and gloves on my feet.
I ate noodles for breakfast and pancakes at night.
I dressed like a star and was quite a sight.
Today I am sad, my mood's heavy and gray.
There's a frown on my face and it's been there all day.
My best friend and I had a really big fight.
She said that I tattled and I know that she's right.
Silly, cranky, excited, or sad--everyone has moods that can change each day. Jamie Lee Curtis's zany and touching verse, paired with Laura Cornell's whimsical and original illustrations, helps kids explore, identify, and, even have fun with their ever-changing moods.
Here's another inspired picture book from the bestselling author-illustrator team of Tell Me Again About the Night I Was Born and When I Was Little: A Four-Year-Old's Memoir of Her Youth.
About the Author
Jamie Lee Curtis has had many firsts: her first (and only) marriage to Christopher Guest, her first time holding her children, Annie and Tom, her first time pretending to be a customer in an episode of Quincy, and her first time she wrote words that became her first book. She lives in Los Angeles, the first city she ever lived in, and is always first in line, first to arrive, first to leave, and first to sleep.
Laura Cornell lives in New York City with her daughter, Lily (first and only), but they spend much time in California, Laura's first state in her first home. She was asked to illustrate Jamie's first book, and that became ten. Lucky is the first word that comes to mind.