A Tree Is Nice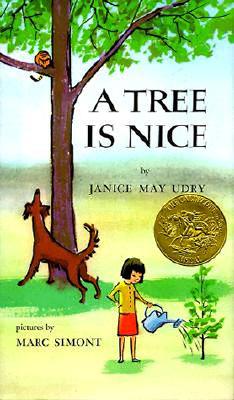 A Tree Is Nice
HarperCollins, Hardcover, 9780060261559, 32pp.
Publication Date: March 1956
* Individual store prices may vary.
Shop Local
Enter your zip code below to find indies closest to you.
Description
"Trees are very nice," says Janice May Udry in her first book for children. She goes on to explain that even one tree is nice, if it is the only one you happen to have.
Some of the reasons why trees are so good to have around are funny. Some are indisputable facts. But in all of them there is a sense of poetic simplicity and beauty which will be sure to entrance any young child. Whether he knows one tree or many, he will relish the descriptions of the delights to be had in, with, or under a tree.
Marc Simont's joyous pictures, half of them in full color, accentuate the child-like charm of the words. And each painting of a tree or trees shows just how very nice they can be.
About the Author
Mrs. Udry's first book, A Tree Is Nice, illustrated by Marc Simont, won the 1957 Caldecott Award for the most distinguished American picture book. Mrs. Udry is also the author of Glenda, Let's Be Enemies (also illustrated by Maurice Sendak), Mary Ann's Mud Day, The Mean Mouse and Other Mean Stories, and Thump and Plunk.
Janice May Udry was born in 1928 in Jacksonville, Illinois and was graduated from Northwestern University in 1950. Her first book, "A Tree is Nice", was awarded the Caldecott Medal in 1956 for the illustrations by Marc Simont.
Marc Simont was born in 1915 in Paris. His parents were from the Catalonia region of Spain, and his childhood was spent in France, Spain, and the United States. Encouraged by his father, Joseph Simont, an artist and staff illustrator for the magazine L'Illustration, Marc Simont drew from a young age. Though he later attended art school in Paris and New York, he considers his father to have been his greatest teacher.
When he was nineteen, Mr. Simont settled in America permanently, determined to support himself as an artist. His first illustrations for a children's book appeared in 1939. Since then, Mr. Simont has illustrated nearly a hundred books, working with authors as diverse as Margaret Wise Brown and James Thurber. He won a Caldecott Honor in 1950 for illustrating Ruth Krauss's The Happy Day, and in in 1957 he was awarded the Caldecott Medal for his pictures in A Tree is Nice, by Janice May Udry.
Internationally acclaimed for its grace, humor, and beauty, Marc Simont's art is in collections as far afield at the Kijo Picture Book Museum in Japan, but the honor he holds most dear is having been chosen as the 1997 Illustrator of the Year in his native Catalonia. Mr. Simont and his wife have one grown son, two dogs and a cat. They live in West Cornwall, Connecticut. Marc Simont's most recent book is The Stray Dog.