Does She or Doesn't She?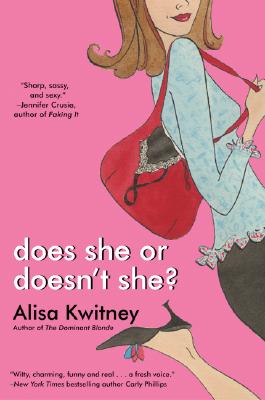 Does She or Doesn't She?
William Morrow & Company, Paperback, 9780060512378, 304pp.
Publication Date: June 24, 2003
* Individual store prices may vary.
Buy at Local Store
Enter your zip code below to purchase from an indie close to you.
or
Buy Here
Description
Passion. The kind of tear-your-clothes off, scream-your-lungs-out, crash-into-the-furniture passion that changes lives.
It's what Delilah wants. It's what she craves. It's what she fantasizes about whenever her disinterested husband's not around. Okay, so it occasionally makes her late for the school run and distracts her from the fact there's no food in the fridge, but an elaborate fantasy life is a basic requirement for a fledgling soap opera writer.
Lately, though, the oddest things have been happening in Delilah's real life. First, she discovers a couple of skeletons rattling around in her husband's closet. Then, she learns that the insolently sexy plumber who's been fixing her pipes and starring in her daydreams is really an undercover FBI agent. And now all the clues seem to point to the conclusion that she's the only person in New York City not carrying on a torrid affair. Which she intends to do something about. Or does she?
Because there's nothing more dangerous than acting on your secret desire.