A Thread Across the Ocean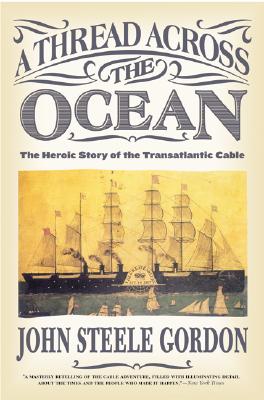 A Thread Across the Ocean
The Heroic Story of the Transatlantic Cable
Harper Perennial, Paperback, 9780060524463, 272pp.
Publication Date: July 1, 2003
* Individual store prices may vary.
Buy at Local Store
Enter your zip code below to purchase from an indie close to you.
or
Buy Here
Description
Today, in a world in which news flashes around the globe in an instant, time lags are inconceivable. In the mid-nineteenth century, communication between the United States and Europe -- the center of world affairs -- was only as quick as the fastest ship could cross the Atlantic, making the United States isolated and vulnerable.
But in 1866, the Old and New Worlds were united by the successful laying of a cable across the Atlantic. John Steele Gordon's book chronicles this extraordinary achievement -- the brainchild of American businessman Cyrus Field and one of the greatest engineering feats of the nineteenth century. An epic struggle, it required a decade of effort, numerous failed attempts, millions of dollars in capital, a near disaster at sea, the overcoming of seemingly insurmountable technological problems, and uncommon physical, financial, and intellectual courage. Bringing to life an overlooked story in the annals of technology, John Steele Gordon sheds fascinating new light on this American saga that literally changed the world.
About the Author
John Steele Gordon is one of America's leading historians, specializing in business and financial history. A full-time writer for the last nineteen years, Gordon's articles have been published in, among others, Forbes, Forbes FYI, Worth, The New York Times Book Review, The New York Times's and The Wall Street Journal's Op-Ed pages, and The Washington Post's Book World and Outlook. A contributing editor at American Heritage magazine, he has written the "Business of America"column there since 1989. His book, The Business of America (Walker & Company, 2001) is a collection of those columns. A Thread Across the Ocean: The Heroic Story of the Transatlantic Cable (Walker & Company 2002) is Gordon's sixth book. His first book, Overlanding, about his experience driving a Land Rover from New York to Tierra del Fuego, Argentina ine-month journey of 39,000 miles published by Harper & Row in 1975. It was followed by The Scarlet Woman of Wall Street, a history of Wall Street in the 1860?(Weidenfeld and Nicolson, 1988), Hamilton's Blessing: The Extraordinary Life and Times of Our National Debt (Walker & Company, 1997), and The Great Game: The Emergence of Wall Street as a World Power, 1653-2000 (Scribner, 1999). John Steele Gordon can be heard frequently on Public Radio International's Marketplace, the daily business-news program heard on more than two hundred stations across the country. He has appeared on numerous other radio and television shows, including Business Center on CNBC, The NewsHour with Jim Lehrer on PBS, The News with Brian Williams, and c-span's Booknotes with Brian Lamb. In addition, he has appeared in a number of television documentaries about American and economic history, including CNBC's The Great Game, based on his book, and Ric Burns's New York: A Documentary Film. John Steele Gordon lives in North Salem, New York. He is currently writing An Empire of Wealth: A History of the American Economy, to be published by HarperCollins.