Marked for Death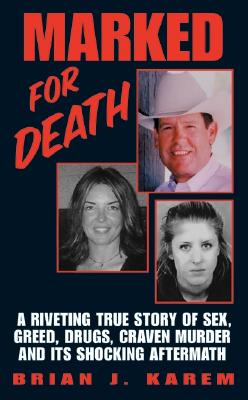 Marked for Death
Avon, Mass Market Paperback, 9780060524715, 304pp.
Publication Date: June 1, 2005
* Individual store prices may vary.
Shop Local
Enter your zip code below to find indies closest to you.
Description
A seasoned investigative reporter takes us behind the scenes of one of the most shocking cases in California history when a greedy and seductive wife brutally murders her devoted husband.
Tavia Williams thought her new stepmother was sweet and charming. Tavia, just a few years younger than 36–year–old Elisa McNabney, was very happy for her father, 53–year–old Larry McNabney. Larry was a horse enthusiast, successful attorney, a pillar of the community, and was loved and admired by everyone he knew. For six years of marriage, Larry and Elisa spent their spare time on the country club and horse racing circuit. It was a perfect life, but it went perfectly wrong. On September 10, 2001, Larry attended a horse show. No one has seen him alive since.
Months after his disappearance, police finally put out a missing persons report. They soon found out that Elisa McNabney was not the person she had claimed to be. A fugitive on the run, Elisa was a con woman who had enlisted the help of a girlfriend to slowly poison her loving husband with horse tranquilizers, in the name of pure greed. Larry was found buried in a vineyard, after Elisa kept his corpse in her deep freezer for months. The only thing more appalling than the horrific murder was the shocking manhunt that followed and the end to this tragic story of deception, murder, and deadly seduction.
o Perfect for true crime readers.
o The details of this true crime are horrifically fascinating and unique. It is also less common for a female to be the main perpetrator in a brutal murder. This case has all of the elements of a fascinating true crime story: a pathological wife and murderer, her suspected lesbian relationship, drugs, physical abuse, greed, ex–cons, secrets, and much more.
About the Author
Brian J. Karem is an award-winning investigative reporter, writer, producer, veteran, bestselling true crime author, and former correspondent for America's Most Wanted. He was the first American reporter allowed inside Pablo Escobar's palatial prison after Escobar's escape from Colombian authorities, and he was one of the first reporters to enter Kuwait City after its liberation during the first Gulf War. A regular contributor to People magazine, Mr. Karem has also interviewed James Carville, Mary Matalin, and G. Gordon Liddy for Playboy. Mr. Karem was presented with the National Press Club's Freedom of the Press Award after he was jailed for protecting a confidential source in 1992. He lives outside of Washington, D.C., with his wife and three children.