The Berenstain Bears Save Christmas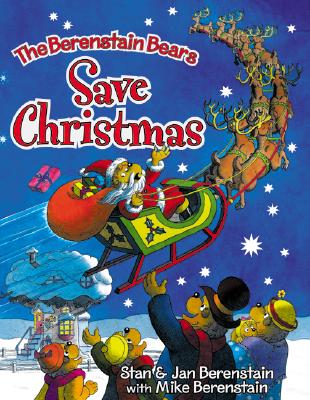 The Berenstain Bears Save Christmas
HarperFestival, Hardcover, 9780060526702, 48pp.
Publication Date: October 1, 2003
* Individual store prices may vary.
Buy at Local Store
Enter your zip code below to purchase from an indie close to you.
or
Not Currently Available for Direct Purchase
Description
Happy Holidays!
Well, maybe not so happy as far as Mama Bear is concerned. She misses Christmas past, when her family gathered together around a little tree, with feelings of love and goodwill. But this year it seems as if everybody in Bear Country has gone Christmas-crazy -- fighting for the last toy on the shelf, jamming the roadways with honking cars, and covering Bear homes with enough Christmas lights to blot out the stars.
Mama Bear isn't the only one who thinks this Christmas lacks the true holiday spirit. Someone is watching the Bears on his scanner-machine -- someone who knows more about Christmas than anyone and doesn't like what he sees one bit. It is Santa Bear, of course, and he's ready to take drastic action! Only the Berenstain Bears can change his mind, but will they be in time to save Christmas?
Like the Bear family, Stan, Jan, and Mike Berenstain have the true Christmas spirit in their hearts, and they prove it with this merry holiday story.
About the Author
Stan and Jan Berenstain were already successful cartoonists for magazines and adult humor books when they began writing children's books. The first story starring the bear family, The Big Honey Hunt, appeared in 1962. Since then, more than 250 Berenstain Bears books have been published, and more than 260 million copies have been sold. What began as an idea sparked by their young sons' interest in children's books has become over the years arguably the best-selling children's book series ever.
Since their inception, the Berenstain Bears stories have expanded to include picture books, beginning readers, and chapter books—even a hit TV show on PBS. Writing and illustrating the books has become a Berenstain family affair. Mike joined with his parents as a creative team in the late 1980s. The Bear family has expanded over the years as well. Sister Bear arrived in 1974, and baby Honey joined the family in 2000.
Since Stan's death at age eighty-two in 2005, Jan and Mike have continued to write and illustrate wonderful new adventures for Mama, Papa, Brother, Sister, and Honey Bear. They live in Bucks County, Pennsylvania, which looks a lot like Bear Country.