Desserts That Have Killed Better Men Than Me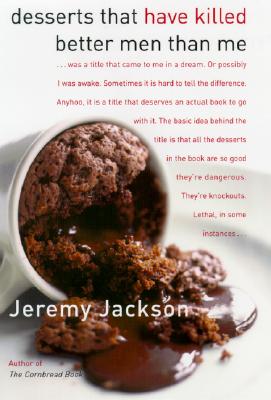 Desserts That Have Killed Better Men Than Me
William Morrow Cookbooks, Hardcover, 9780060527129, 160pp.
Publication Date: March 1, 2004
* Individual store prices may vary.
Not Currently Available for Direct Purchase
or
Shop Local
Enter your zip code below to purchase from an indie close to you.
Description
Warning: This is a no-holds-barred book of decadence. Do you keep unsalted butter in your freezer? Not afraid of a little saturated fat? Then indulge -- if you dare!
The recipes in Jeremy Jackson's Desserts That Have Killed Better Men Than Me pack a one-two butter-and-sugar punch. Have a lick of Snice Cream (that's Fresh Snow Ice Cream) or slurp down a Banana Smoothie. Chomp on Chocolate-Dipped Ranger Cookies or dive into a Chocolate Sinkhole. Just be prepared to defend your bounty. These desserts are so delicious that a food fight might start over the last piece of cake!
Don't be fooled by the simple ingredients and easy-to-follow directions. Jeremy's desserts are not to be taken lightly. They're not for the faint of heart -- or stomach. Danger lurks beneath that delectable layer of Chocolate Ganache. So suit up in a pair of elastic waist pants, arm yourself with a fork and a giant glass of milk, and prepare for battle.
If you can survive Three-Lemon Cheesecake and My School Lunch Cream Puffs, you can probably handle the Peach Pie with Almond Crumb Topping. Polish that off and you just might be ready for the Hanging-Crust Rhubarb Cobbler.
In the world of desserts, there is no room for mediocrity. Desserts That Have Killed Better Men Than Me has no filler or predictable, so-so recipes (and absolutely no almond bark!), just good, honest, and deadly delicious ones -- with plenty of heavy cream.
About the Author
Jeremy Jackson is the author of The Cornbread Book, the first cookbook devoted solely to America's bread of breads. A graduate of Vassar College and the Iowa Writers' Workshop, Jeremy has written about food for the Chicago Tribune and is also the author of two novels, Life at These Speeds and In Summer. He lives in Iowa City, Iowa.
In His Own Words. . .
Though I was born in Ohio, I grew up with my family on a farm in the Ozark borderlands of Missouri. We raised cattle and hay and had a garden the size of Texas. At various times we had horses, cattle, a pig, sheep, chickens, ducks, and a pony. We ate a lot of these animals, but not the pony. We also had wild blackberries and persimmons and walnuts on our farm. And a pear tree. And we caught fish in our ponds. We ate some of them, too.
For some crazy reason, I headed off to Vassar College, thinking that I would become a writer. Unfortunately, I did. It was all downhill from there, though the sex was good. From Vassar I went straight into the Iowa Writers' Workshop, where I wrote brilliant stories about bunnies, marbles, and a talking mailbox named Ruth. Then I spent a year writing a novel and a screenplay. Then I went and taught English back at Vassar for two years. Being a professor was a mind-numbing experience, though the sex was good. I quit that job and started being a writer full time, which was very much like being a writer part time except that it took a lot more time and I felt much more guilty when I didn't write anything. I moved from Poughkeepsie back to Iowa, which is kind of like moving from the outer circles of hell to the Garden of Eden. I bought a house here. It's a nice Craftsman-style bungalow. Plus there's a sauna.
In addition to The Cornbread Book, I'm the author of Life at These Speeds, a literary novel. There isn't any cornbread in the novel. Right now I'm writing a second novel. And my next cookbook, Desserts That Have Killed Better Men Than Me, is already on the way. There isn't any cornbread in it, either, mostly just butter and heavy cream.