Oxymoronica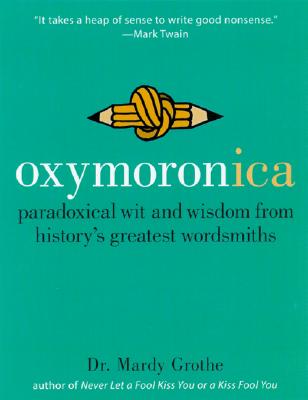 Oxymoronica
Paradoxical Wit and Wisdom from History's Greatest Wordsmiths
HarperResource, Hardcover, 9780060536992, 246pp.
Publication Date: March 2, 2004
* Individual store prices may vary.
Buy at Local Store
Enter your zip code below to purchase from an indie close to you.
or
Buy Here
Description
ox-y-mor-on-i-ca (OK-se-mor-ON-uh-ca) noun, plural: Any variety of tantalizing, self-contradictory statements or observations that on the surface appear false or illogical, but at a deeper level are true, often profoundly true. See also oxymoron, paradox.
examples: "Melancholy is the pleasure of being sad."
Victor Hugo"To lead the people, walk behind them."
Lao-tzu"You'd be surprised how much it coststo look this cheap."
Dolly Parton
You won't find the word "oxymoronica" in any dictionary (at least not yet) because Dr. Mardy Grothe introduces it to readers in this delightful collection of 1,400 of the most provocative quotations of all time. From ancient thinkers like Confucius, Aristotle, and Saint Augustine to great writers like Shakespeare, Oscar Wilde, and G. B. Shaw to modern social observers like Woody Allen and Lily Tomlin, Oxymoronica celebrates the power and beauty of paradoxical thinking. All areas of human activity are explored, including love, sex and romance, politics, the arts, the literary life, and, of course, marriage and family life. The wise and witty observations in this book are as highly entertaining as they are intellectually nourishing and are sure to grab the attention of language lovers everywhere.
Praise For Oxymoronica…
"Truly the most comprehensible collection of contradictions around."
-Erin McKean, Editor of Verbatim: The Language Quarterly

"As addictive as a bowl of peanuts-- you can't stop after just one paradox from Oxymoronica!"
-A. Ross Eckler, author of Making the Alphabet Dance

Promises to engage you for long moments -- or short hours -- in its paradoxical simplicity.
-Milwaukee Journal Sentinel