The American Future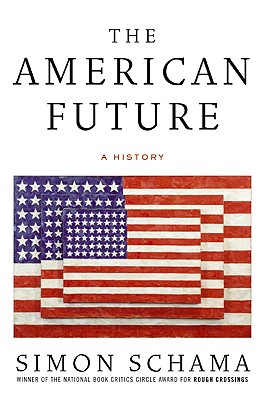 The American Future
A History
Ecco Press, Hardcover, 9780060539238, 416pp.
Publication Date: May 19, 2009
* Individual store prices may vary.
Buy at Local Store
Enter your zip code below to purchase from an indie close to you.
or
Buy Here
Description
Acclaimed historian and award-winning author Simon Schama offers an essential historical perspective on the crucial 2008 presidential election and its importance for reclaiming America's original ideal.
It's not business as usual. Cultural hostilities more irreconcilable than any since the Civil War have divided America in two. In November 2008, the American people elected a new president, feeling more anxious about the future of the nation than at any time since Watergate. Our omnipotent military, the cornucopia of material comforts available, the security of our borders, and the global economy can no longer be taken for granted.
In The American Future, historian Simon Schama takes a long look at the multiple crises besetting the United States and asks how these problems look in the mirror of time. In four crucial debateson wars, religion, race and immigration, and the relationship between natural resources and prosperitySchama looks back to see more clearly into the future. Full of lost insights, The American Future showcases Schama's acclaimed gift for storytelling, ensuring these voices will be heard again.
About the Author
Simon Schama is University Professor of Art History and History at Columbia University in New York. His award-winning books include Scribble, Scribble, Scribble; The American Future: A History; National Book Critics Circle Award winner Rough Crossings; The Power of Art; The Embarrassment of Riches: An Interpretation of Dutch Culture in the Golden Age; Citizens: A Chronicle of the French Revolution; Dead Certainties (Unwarranted Speculations); Landscape and Memory; Rembrandt's Eyes; and the History of Britain trilogy. He has written and presented forty television documentary films for the BBC, PBS, and The History Channel, including the Emmy-winning Power of Art, on subjects that range from John Donne to Tolstoy.
Praise For The American Future…
"Schama is a genius of storytelling. . . . A historian who radiates such anticipated pleasure is a rare thing. We are lucky to have him."
-The Times (London)

"It is a tribute to Mr. Schama's talent that he is able to make this work sound exciting, even inspiring. . . . The American Future is a success because Mr. Schama knows how to entwine past and present into a meaningful, continuous whole."
-New York Times

"With eloquence, wit, passion and irony, The American Future traces the history of an idea: that of our national destiny. . . . Schama's is a book of beautiful writing, peppered with wisecracks, slashed with rapier thrusts."
-Philadelphia Inquirer

"Schama is a masterful stylist and storyteller."
-Boston Globe

"A lively meditation on American history . . . Schama's wide-ranging narratives wander between contemporary reportage . . . and fluent, richly literate history."
-Publishers Weekly (starred review)

"It has its own particular charm . . . a fabulous jumble-sale, full of old treasures and recent acquisitions. Anyone interested in America will find in it something to their fancy."
-The Economist

"As a literary endeavor, The American Future does live up to the author's lofty standards. Schama is, among other things, a nimble biographer...[and] a writer of gorgeous prose."
-Washington Post

"His historical narrative is excellent. . . . [Schama] writes beautifully about Americans of the past."
-Miami Herald

"His specialty is finding interesting midlevel characters from the buried mounds of history and telling their stories. In the first great chunk of the book, he tells the stories of the Meigses...gripping portraits...Simon Schama the outstanding historian still survives."
-David Brooks, New York Times Book Review

"I hope Obama will have this book on his bedside table. A more inspiring evocation of the spirit of liberal America—past, present and future—does not exist."
-Niall Ferguson