Like Dreamers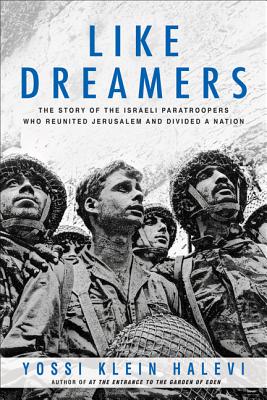 Like Dreamers
The Story of the Israeli Paratroopers Who Reunited Jerusalem and Divided a Nation
HarperTorch, Hardcover, 9780060545765, 575pp.
Publication Date: October 1, 2013
* Individual store prices may vary.
Buy Now
or
Shop Local
Enter your zip code below to purchase from an indie close to you.
Description
In June 1967, Israel achieved the unimaginable--a decisive victory against Egypt, Jordan, and Syria in the Six-Day War. The most symbolic triumph for the young nation was the reunification of Israeli West Jerusalem and Jordanian East Jerusalem, achieved at great cost by a group of paratroopers from the 55th Paratroopers Reserve Brigade. In restoring Jewish sovereignty to the Holy City, these men fulfilled the dream of two millennia, changing the history of Israel and of the Middle East. And as veteran journalist Yossi Klein Halevi shows in Like Dreamers, they played pivotal roles in shaping Israel's destiny long after their resounding military success.
A masterful storyteller, Halevi tracks down seven members of the 55th Brigade and traces their lives through the decades following the Six-Day War. But as his narrative reveals, despite the intensity of their shared experience protecting Israel, in their postwar paths they nurture drastically divergent visions for the country's future. Yoel Bin-Nun emerges at the forefront of the religious Zionist West Bank settlement movement, but Arik Achmon--the chief intelligence officer of the 55th--becomes a spiritual father of the unilateral withdrawal from Gaza in 2005. Achmon becomes a driving force in the growth of Israel's capitalist economy, whereas Avital Geva, in addition to building a reputation as a leading conceptual artist, ardently defends the socialist kibbutzim. And while Geva is among the foremost activists in Peace Now, Udi Adiv helps create an anti-Zionist terror underground in Damascus, eventually serving twelve years in an Israeli prison.
Charting the ideological differences among this band of brothers, Halevi weaves a nuanced and insightful chronicle of modern Israel. His fascinating, diligently researched examination of each man's motivations and actions--supported by extensive interviews with their friends, family members, and comrades-in-arms--humanizes the country 's complex political landscape, facilitating a deeper understanding of the forces that influence its evolution as a state.
About the Author
Yossi Klein Halevi is an American-born journalist who has lived in Jerusalem since 1982. He is a senior fellow of the Shalom Hartman Institute in Jerusalem and the author of At the Entrance to the Garden of Eden: A Jew's Search for God with Christians and Muslims in the Holy Land and Like Dreamers: The Story of the Israeli Paratroopers Who Reunited Jerusalem and Divided a Nation. He and his wife, Sarah, have three children.