A Lion Among Men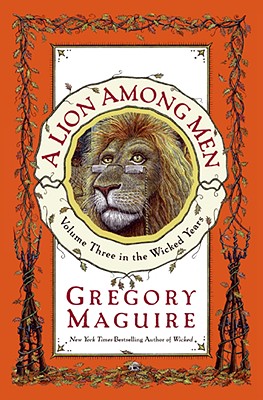 A Lion Among Men
William Morrow & Company, Hardcover, 9780060548926, 312pp.
Publication Date: October 14, 2008
* Individual store prices may vary.
Buy at Local Store
Enter your zip code below to purchase from an indie close to you.
or
Buy Here
Description
Return to a darker Oz with Gregory Maguire. In A Lion Among Men, the third volume in Maguire's acclaimed, New York Times bestselling series The Wicked Years, a fuller, more complex Cowardly Lion is brought to life and gets to tell his remarkable tale. It is a story of oppression and fear in a world gone mad with war fever--of Munchkins, Wizards, and Wicked Witches--and especially of a gentle soul and determined survivor who is truly A Lion Among Men.

Praise For A Lion Among Men…
A New York Times, San Francisco Chronicle, Boston Globe, Wall Street Journal, Denver Post, and USA Today bestseller
-No Source

"Maguire's work is melodic, symphonic and beautiful; it is dejected and biting and brave. . . . In fabulous details and self-mocking language, Maguire displays his gift for whimsical portrayals of the broken, the powerless, the hopeless, the bad."
-Los Angeles Times

"Much to savor, laugh at, and think about. . . . A page-turning fantasy and a timely political allegory."
-USA Today

"Entertaining....The author mixes some relatively weighty existential themes—the search for self, faith, redemption—into his whimsical story line. [A] darkly enchanting saga"
-Publishers Weekly

"This Oz goes far beyond L. Frank Baum's; it's as surreal as a dream, but as immaculately and impeccably detailed as history. Maguire's wizardlike grasp over every aspect of this reinvented land rivals classic literary landscapes like Tolkien's Middle Earth and Faulkner's Yoknapatawpha County."
-Albany Times Union

"So well-crafted that readers of all ages could enjoy witnessing Brrrr's transformation from an insecure kitten in the woods to a compassionate, engaged 'manimal.'"
-Christian Science Monitor

"The third book in Maguire's Wicked Years is at once funny, charming, harrowing, bleak and incredibly beautiful."
-The American Chronicle

"Engrossing...Maguire is a masterful storyteller with an uncanny flair for mixing political and personal while exploring what it means—and what it costs—to be accepted in a society."
-New York Daily News

"As usual, Maguire, a seasoned fabulist, populates his version of Oz with a cast of utterly fantastical characters who must face their own inner demons while tumult and uncertainty rages around them. An absolute must-read for fans of this ever-evolving dark fairy tale."
-Booklist

"The minute you open A Lion Among Men, you're back in Maguire's exquisitely detailed environment, caught up once again in his geography, his characters, his worldview, touched anew by the loneliness that lurks in the heart of all things."
-New Orleans Times-Picayune