Heaven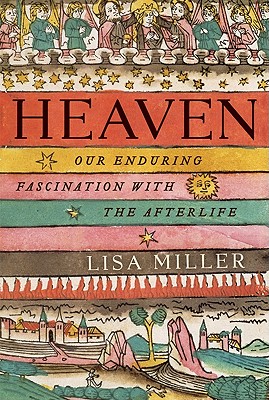 Heaven
Our Enduring Fascination with the Afterlife
Harper, Hardcover, 9780060554750, 368pp.
Publication Date: April 1, 2010
* Individual store prices may vary.
Not Currently Available for Direct Purchase
or
Shop Local
Enter your zip code below to purchase from an indie close to you.
Description
A groundbreaking and accessible history of heaven—from the earliest biblical conceptions of the afterlife to the theologians who frame our understandings to the convictions and perceptions of everyday people
Drawing on history and popular culture, biblical research and everyday beliefs, Heaven offers a new understanding of one of the most cherished—and shared—ideals of spiritual life. Lisa Miller raises debates and discussions not just about our visions of the afterlife, but about how our beliefs have influenced the societies we have built and the lifestyles to which we have subscribed, exploring the roots of our beliefs in heaven and how these have evolved throughout the ages to offer comfort and hope.
She also reveals how the notion of heaven has been used for manipulation—to promulgate goodness and evil—as inspiration for selfless behavior, and as justification for mass murder.
As Miller demonstrates in this absorbing and enlightening book, the desire for a celestial afterlife is universal—shared by the faithful around the world and across religions. It is as old as the Bible itself. While there are many notions of what exactly heaven is and how we get there, Jews, Christians, and Muslims all agree that heaven is God's home. From the Revelation to the Left Behind series, Augustine to Osama bin Laden, Muslims in the West Bank to American Mormons baptizing their dead, Heaven is a penetrating look at one of our most cherished religious ideals.
About the Author
Lisa Miller is an award-winning journalist and an editor at Newsweek, where she writes regularly about religion, values, culture, and politics. She lives in Brooklyn with her husband and daughter.
Praise For Heaven…
"Delightful and insightful. . . . This marvelous work is a readable and wonderfully realized study of this 'constant hope' that we share. . . . Whether we're informed by scripture or by popular culture, HEAVEN will delight and edify readers at every level."
-Publishers Weekly (starred review)

"Lisa Miller has long been the fairest and most engaging journalist covering religion in America. In Heaven, she has accomplished the impossible: She has written a book about religion that fundamentalists, moderates, liberals, and nonbelievers alike can read with extreme pleasure."
-Sam Harris, New York Times bestselling author of The End of Faith and Letter to a Christian Nation

"A rare combination of journalism, memoir, and historical research by a self-professed skeptic who nonetheless believes in hope, this smart yet heartfelt book leads us into the center of one of the greatest conversations of all time. And Lisa Miller is the perfect conversation partner."
-Stephen Prothero, New York Times bestselling author of American Jesus and Religious Literacy

"Miller's whirlwind tour of heaven is an entertaining primer on a most complex subject."
-Booklist

"Readers of HEAVEN will more likely than not find their own imaginations enriched, their experiences enhanced, their taste for exploration enlarged, and their impulse to reach out in empathy and hope quickened."
-Martin E. Marty, Fairfax M. Cone Distinguished Service Professor Emeritus, University of Chicago

"This fascinating, thoughtful, and challenging study tells us a great deal about what it means to be a human being."
-Karen Armstrong, New York Times bestselling author of A History of God and The Case for God