My Life with the Wave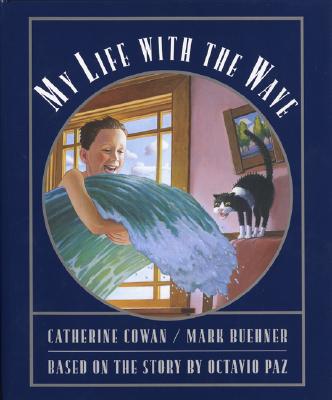 My Life with the Wave
HarperTrophy, Paperback, 9780060562007, 32pp.
Publication Date: March 2004
* Individual store prices may vary.
Buy Now
or
Shop Local
Enter your zip code below to purchase from an indie close to you.
Description
My first trip to the seashore,
one wave tore away from the sea.
She caught my hand, and we raced
away together across the sand.
Based on a story by Nobel Prize laureate Octavio Paz, this delightful tale of a boy and his pet wave is charmingly retold with beautiful new illustrations. See if you can find the hidden cat, dog, mouse, whale, and sea horse in almost every picture!
Ages 3 – 8
About the Author
Marl Buehner has six little pilgrims of his own in Salt Lake City, Utah, where he lives with his wife, Caralyn, and their children: Heidi, Grant, Sarah, Samuel, Laura, and Jake. Mark has illustrated many wonderful children's books, including I Am the Cat by Alice Schertle and Harvy Potter's Balloon Farm by Jerdine Nolen.
In her Own Words...
"Igrew up in a valley four miles from Jollyville, Texas (outside of Austin), where I attended first grade in a threeroom school. Friends and playmates, other than my brother and sister, were rare. Since we didn't have television, I entertained myself. Any movie, comic book, or old Nalional Geographic" fed my imagination with stories.
"Books were time-travel machines carrying me around the world and into other lives. I took what I read, then changed it, adding different characters to make the stories my own. I played these out with homemade paper dolls. At the end of the day, my characters were swept into a box and hidden away so that no one would find them and laugh at me.
"The only hint that I might one day write came while I lay sick, whining over my inability to do the things I dreamed of. My mother suggested I could write. Then I could do whatever I wanted without ever leaving my bed. That was not what I had in mind. I wanted to have the kind of wild adventures that another sickly child, Robert Louis Stevenson, wrote about.
"Among my favorite books were Bambi, The Jungle Book, and The Wind in the Willows--all with friendly animals. Living in the country, I heard foxes and raccoons kill our chickens. Even gathering eggs could be frightening. Chicken snakes, swollen with swallowed eggs, often lay coiled in dark nests. I decided to tame the wild world and bring it inside to live. I tried rabbits, snakes, hawks, and a fox, but discovered that wild things do best in the wild, just as waves are best left in the ocean.
"When other children ran outside to play, I hung around listening to the grown-ups. One day, my grandfather offered to tell me about when he and his brother went to the Klondike, or the time they drove cattle from Texas to the Dakotas. I was thrilled. Until my grandmother said, "That child doesn't want to hear your old tales." Later, when traveling, I found myself searching for his lost stories.
"What I wanted to do with my life changed depending upon the day, the month, and year. I planned to run a museum, raise angora goats, be a composer, play the violin, dig for lost civilizations, work in a zoo, sail around the world, save the planet from humanity, explore the Amazon basin, collect unknown orchid species, be a photographer, and drive from Alaska to the tip of South America.
"It wasn't until after I had graduated from college that I began to write. Then, needing to earn a living, I became an accountant. That didn't last. Encouraged by my husband, Carl, I escaped and returned to writing.
"As a child, I liked pretending I was grown. But now that I'm grown, I like nothing better than pretending I'm a child again."