Earthly Powers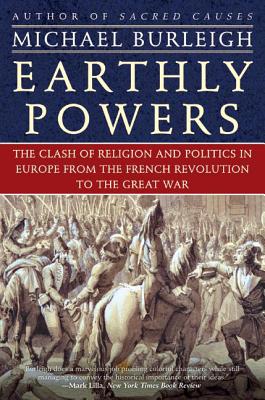 Earthly Powers
The Clash of Religion and Politics in Europe, from the French Revolution to the Great War
Harper Perennial, Paperback, 9780060580940, 560pp.
Publication Date: March 1, 2007
* Individual store prices may vary.
Buy at Local Store
Enter your zip code below to purchase from an indie close to you.
or
Not Currently Available for Direct Purchase
Description
In this masterful, stylish, and authoritative book, Michael Burleigh gives us an epic history of the battles over religion in modern Europe, examining the complex and often lethal ways in which politics and religion have interacted and influenced each other over the last two centuries. From the French Revolution to the totalitarian movements of the twentieth century, Earthly Powers is a uniquely powerful portrait of one of the great tensions of modern history one that continues to be played out on the world stage today.
Praise For Earthly Powers…
"Michael Burleigh has written a thoughtful and highly original book."
-Paul Johnson, author of Modern Times

"With effervescent prose, Burleigh chronicles the rise of the 'terrible simplifications' of the secular age with a Dostoevskian intensity."
-Niall Ferguson, author of Colossus

"Michael Burleigh is one of England's finest historians and Earthly Powers is a wonderful and illuminating achievement."
-Jay Winik, author of April 1865

"This is a hugely informative and stimulating book, by one of the most original historians of the modern age."
-Noel Malcolm, The Evening Standard

"Earthly Powers can only cement Michael Burleigh's reputation as one of the leading historians of our time."
-The Independent

"This is history on a grand scale, but a history that illuminates the present as well as the past."
-Joseph Frank, author of Dostoevsky

"A substantial and sardonic study…. A powerful summary of an age in which western Europe found its old faith incoherent."
-Diarmaid MacCulloch, The Guardian

"A refreshingly complicated history…. Burleigh covers a huge amount of ground, from Ireland to Greece and Russia."
-Graham Robb, The Daily Telegraph

"Remarkable…. There is a furious energy at work here…. The sheer volume of information presented is startling and thrilling."
-The Observer

"A hugely ambitious intellectual undertaking, but one that succeeds magnificently…. The author is clearly at the height of his powers."
-Andrew Roberts, The Sunday Telegraph

"Everyone who reads Earthly Powers…will be grateful that Burleigh has put religion back into the history of European politics."
-Daniel Johnson, Sunday Times (London)

"Fascinating, enjoyable, and beautifully written. . . . A masterful survey of European history."
-Publishers Weekly (starred review)

"A provocative reconsideration of early modern European history."
-Kirkus Reviews

"Thoughtful and highly original. Earthly Powers steers a new path through the well-trodden ground of modern European history."
-Paul Johnson, author of Modern Times

"This is a hugely informative and stimulating book, by one of the most original historians of the modern age.
-Noel Malcolm, The Evening Standard

"A vivid portrait. . . perfect for a tale that has many extremists but few heroes."
-National Review

"Earthly Powers should be required reading for anyone who understands that religion and politics can never be divorced."
-Chicago Tribune

"A vast range of material is handled in a deft, readable way."
-The Economist

"Burleigh does a marvelous job profiling colorful characters while still managing to convey the historical importance of their ideas."
-Mark Lilla, The New York Times Book Review

"As an intellectual history, the book is digressive but compelling."
-The New Yorker