Fool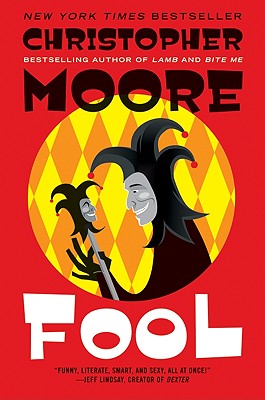 Fool
Harper Paperbacks, Paperback, 9780060590321, 328pp.
Publication Date: February 23, 2010
* Individual store prices may vary.
Buy at Local Store
Enter your zip code below to purchase from an indie close to you.
or
Buy Here
Description
Verily speaks Christopher Moore, much-beloved scrivener and peerless literary jester, who hath writteneth much that is of grand wit and belly-busting mirth, including such laureled bestsellers of the Times of Olde Newe Yorke as Lamb, A Dirty Job, and You Suck: A Love Story. Now he takes on no less than the legendary Bard himself (with the utmost humility and respect) in a twisted and insanely funny tale of a moronic monarch and his deceitful daughters a rousing story of plots, subplots, counterplots, betrayals, war, revenge, bared bosoms, unbridled lust . . . and a ghost (there's always a bloody ghost), as seen through the eyes of a man wearing a codpiece and bells on his head.
About the Author
Christopher Moore is the author of twelve previous novels: Practical Demonkeeping, Coyote Blue, Bloodsucking Fiends, Island of the Sequined Love Nun, The Lust Lizard of Melancholy Cove, Lamb, Fluke, The Stupidest Angel, A Dirty Job, You Suck, Fool, and Bite Me. He lives in San Francisco, California.
Praise For Fool…
"Funny, literate, smart and sexy, all at once!"
-Jeff Lindsay, author of the Dexter series, on FOOL

"Moore turns things on their head with an edgy 21st-century perspective that makes the story line as sharp, surly and slick as a game of Grand Theft Auto… It's a manic, masterly mix-winning, wild and something today's groundlings will applaud."
-Publishers Weekly on FOOL

"[W]all-to-wall, farcical fornicating and fighting…a jolly good time can be had."
-Booklist on FOOL

"Less may be more, but it isn't Moore. Wretched excess doth have power to charm, and there are great reeking oodles of it strewn throughout these irreverent pages."
-Kirkus Reviews on FOOL

"It's hard to resist so gleeful a tale of murder, witchcraft, treason, maiming, and spanking. . . . Moore's deft ear for dialogue keeps the pages turning . . . Fool is a wickedly good time."
-Christian Science Monitor on FOOL

"In transforming "King Lear" into a potty-mouthed jape, Moore is up to more than thumbing his nose at a masterpiece. His version of Shakespeare's Fool, who accompanies Lear on his slide from paternal arrogance to spiritual desolation in the original text, simultaneously honors and imaginatively enriches the character."
-San Francisco Chronicle on FOOL

"Often funny, sometimes hilarious, always inventive, this is a book for all, especially uptight English teachers, bardolaters and ministerial students of the kind who come to our doorstep on Saturday mornings."
-Dallas Morning News on FOOL

"In truth, Fool is exuberantly, tirelessly, brazenly profane, vulgar, crude, sexist, blasphemous and obscene. Compared to Moore's novel, even Mel Brooks's hilariously tasteless film "Blazing Saddles" appears a model of stately 18th-century decorousness."
-Washington Post Book World (Michael Dirda) on FOOL

"The very definition of a bawdy romp: a broad, elbow-in-the-ribs, wink-wink homage to King Lear (but with quantities of shagging that would have kept legions of Grade 12 students glued to their copies had the Bard only thought to include it). …[A] riotous adventure."
-Winnipeg Free Press

"Moore is a very clever boy when it comes to words. There are good chuckles to be had in this tale. …Whether you need to read the original King Lear before you read Moore's Fool is debatable. Seems a fool's errand to us. Just enjoy."
-USA Today on FOOL

"A page-turner…. Your 'Lear' can be rusty or completely unread to appreciate this new perspective on the Shakespearean tragedy. That is if you enjoy a whole lot of silly behind the scenes of your tragedies."
-Valdosta Times (Georgia) on FOOL

"You don't need to be a Shakespeare expert to get this retelling, which keeps the bones of the tragedy (mad monarch, scheming daughters, moatful of mayhem) but rattles them with cheeky tweaks and plays it all for laughs.…[Moore] achieves bust-a-gut funny."
-Daily News on FOOL

"Moore compares favorably to Tom Robbins – crazy adventure, clever twists, feel-good philosophy – crafting a laugh-out-loud romp with Bard-worthy smarts."
-Philadelphia City Paper on FOOL