Johnny Appleseed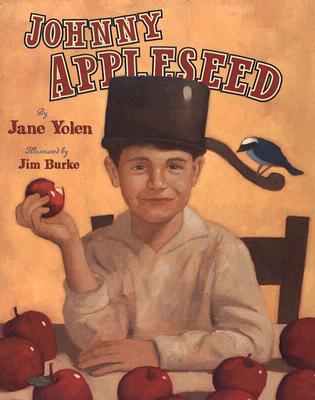 Johnny Appleseed
The Legend and the Truth
HarperCollins Publishers, Hardcover, 9780060591359, 32pp.
Publication Date: August 26, 2008
* Individual store prices may vary.
Buy Now
or
Shop Local
Enter your zip code below to purchase from an indie close to you.
Description
Everyone knows the legend of Johnny Appleseed, the man from Massachusetts who planted apple trees all the way to California. But the true story of Johnny Appleseed, or John Chapman, is even greater than the legend. In deft and lyrical prose, Jane Yolen tells the whole story of an individual who forever changed the landscape of America.
Breathtaking paintings by award-winning artist Jim Burke illuminate the historical detail of this man's life while capturing all the magic and mystery of his legend.
About the Author
Jane has been called the Hans Christian Andersen of America and the Aesop of the twentieth century. She sets the highest standard for the industry, not only in the meaningful body of work she has created, but also in her support of fellow authors and artists. Her books range from the bestselling How Do Dinosaurs series to the Caldecott winning Owl Moon to popular novels such as The Devil s Arithmetic, Snow in Summer, and The Young Merlin Trilogy, to award-winning books of poetry such as Grumbles from the Forest, and A Mirror to Nature. In all, she has written over 335 books (she s lost count), won numerous awards (one even set her good coat on fire), and has been given six honorary doctorates in literature. For more information, please visit www.janeyolen.com.

Jim Burke is the author of the Heinemann title What's the Big Idea? The question he's always tried to answer is "How can we teach our students better?" He began this search in his own classroom at Burlingame High School in California, where he still teaches. He shares his experiences there in bestselling professional titles with Heinemann such as The English Teacher's Companion; Reading Reminders; and Writing Reminders as well as through Heinemann Professional Development Services. Looking to his peers for still more answers, he founded the English Companion Ning, described by Education Week as "the world's largest English department." Jim continues to find and support best practices in many other ways, including serving on national commissions related to adolescent literacy and standards, such as the Advanced Placement English Literature and Language Course and Exam Review Commission with the College Board, and by being a senior author on the Holt McDougal Harcourt Literature series. Jim has received numerous awards, including the NCTE Intellectual Freedom Award, the NCTE Conference on English Leadership Award, and the California Reading Association Hall of Fame Award. He served on the National Board for Professional Teaching Standards Committee on Adolescence and Young Adulthood English Language Arts Standards and recently worked with ACT on their high school English Language Arts standards. In 2007, he participated in the national Adolescent Literacy Coalition roundtable and worked with the Partnership for 21st Century Skills. Visit his website (www.englishcompanion.com) for more information.