Bugtown Boogie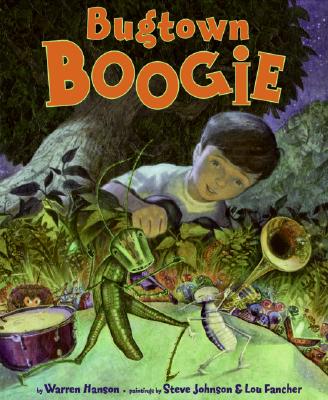 Bugtown Boogie
HarperCollins, Hardcover, 9780060599379, 32pp.
Publication Date: June 1, 2008
* Individual store prices may vary.
Shop Local
Enter your zip code below to find indies closest to you.
Description
I was strollin' on home through the woods the other night,
When I saw something a-flashin'—it was shining mighty bright!
It was blinkin' and a-winkin' near the bottom of a tree,
So I scurried on over just to see what I could see.
On his way home, a little boy happens upon a magical door to a tiny bugtown where termites play the trumpet, centipedes dance, and the Queen Bee announces that everyone in her kingdom should "Boogie down!"
Warren Hanson's rhyming, rhythmic read-aloud, filled with bug sounds and dance moves, jives with Steve Johnson and Lou Fancher's rockin' art for jammin' insect adventure.
About the Author
Warren Hanson has been writing and illustrating children's books for the last twenty years. He's the author of Grandpa Has a Great Big Face, the author and illustrator of The Next Place, and the illustrator of the Peef books and A Cup of Christmas Tea. He lives in Saint Paul, Minnesota, with his wife, Patty.