Great Short Works of Edgar Allan Poe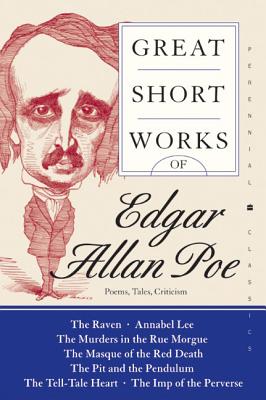 Great Short Works of Edgar Allan Poe
Poems, Tales, Criticism
Harper Perennial, Paperback, 9780060727857, 564pp.
Publication Date: September 28, 2004
* Individual store prices may vary.
Buy at Local Store
Enter your zip code below to purchase from an indie close to you.
or
Buy Here
Description
The classic poems and spine-tingling stories of a Gothic American master collected in one volume.
Of all the American masters, Edgar Allan Poe staked out perhaps the most unique and vivid reputation, as a master of the macabre. Even today, in the age of horror movies and high-tech haunted houses, Poe is the first choice of entertainment for many who want a spine-chilling thrill.
Born in Boston in 1809, and dead at the age of 40, Poe wrote across several fields during his life, noted for his poetry and short stories as well as his criticism. The best of each of these is collected here, including the classic poem The Raven, and timeless stories like The Tell-Tale Heart. In his introduction to this volume, G. R. Thompson argues that Poe was a great satirist and comedic craftsman, as well as a formidable Gothic writer. "All of Poe's fiction," Thompson writes, "and the poems as well, can be seen as one coherent piece—as the work of one of the greatest ironists of world literature."
About the Author
Author, poet, and literary critic, Edgar Allan Poe is credited with pioneering the short story genre, inventing detective fiction, and contributing to the development of science fiction. However, Poe is best known for his works of the macabre, including such infamous titles as The Raven, The Pit and the Pendulum, The Murders in the Rue Morgue, Lenore, and The Fall of the House of Usher. Part of the American Romantic Movement, Poe was one of the first writers to make his living exclusively through his writing, working for literary journals and becoming known as a literary critic. His works have been widely adapted in film. Edgar Allan Poe died of a mysterious illness in 1849 at the age of 40.

G.R. Thompson is Professor of English at Purdue University. He has published several studies of Edgar Allan Poe, including Poe s Fiction: Romantic Irony in the Gothic Tales, Essays and Reviews of Edgar Allan Poe, Romantic Arabesque, Contemporary Theory, and Postmodernism and the Library of America edition of Poe s Essays and Reviews.