The Green House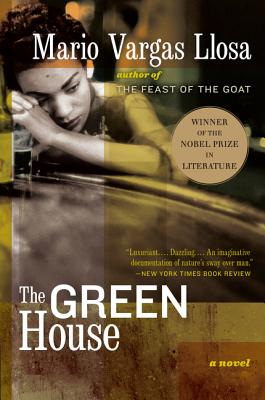 The Green House
Rayo, Paperback, 9780060732790, 405pp.
Publication Date: February 1, 2005
* Individual store prices may vary.
Buy Now
or
Shop Local
Enter your zip code below to purchase from an indie close to you.
Description
Mario Vargas Llosa's classic early novel takes place in a Peruvian town, situated between desert and jungle, which is torn by boredom and lust. Don Anselmo, a stranger in a black coat, builds a brothel on the outskirts of the town while he charms its innocent people, setting in motion a chain reaction with extraordinary consequences.
This brothel, called the Green House, brings together the innocent and the corrupt: Bonificia, a young Indian girl saved by the nuns only to become a prostitute; Father Garcia, struggling for the church; and four best friends drawn to both excitement and escape.
The conflicting forces that haunt the Green House evoke a world balanced between savagery and civilization -- and one that is cursed by not being able to discern between the two.
About the Author
Mario Vargas Llosa is Peru's foremost author and the winner of the 2010 Nobel Prize in Literature. In 1994 he was awarded the Cervantes Prize, the Spanish-speaking world's most distinguished literary honor, and in 1995 he won the Jerusalem Prize. His many distinguished works include "The Storyteller", "The" "Feast of the Goat", "Aunt Julia and the Scriptwriter", "Death in the Andes", In "Praise of the Stepmother", "The Bad Girl", "Conversation in the Cathedral", The "Way to Paradise", and "The War of the End of the World". He lives in London.

Gregory Rabassa is the recipient of multiple prizes and the translator of One Hundred Years of Solitude, among other classic works.