God in the White House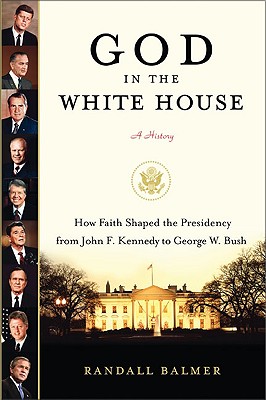 God in the White House
A History: How Faith Shaped the Presidency from John F. Kennedy to George W. Bush
HarperOne, Hardcover, 9780060734053, 256pp.
Publication Date: February 1, 2008
* Individual store prices may vary.
Buy at Local Store
Enter your zip code below to purchase from an indie close to you.
or
Not Currently Available for Direct Purchase
Description
How did we go from John F. Kennedy declaring that religion should play no role in the elections to Bush saying, "I believe that God wants me to be president"?
Historian Randall Balmer takes us on a tour of presidential religiosity in the last half of the twentieth century—from Kennedy's 1960 speech that proposed an almost absolute wall between American political and religious life to the soft religiosity of Lyndon B. Johnson's Great Society; from Richard Nixon's manipulation of religion to fit his own needs to Gerald Ford's quiet stoicism; from Jimmy Carter's introduction of evangelicalism into the mainstream to Ronald Reagan's co-option of the same group; from Bill Clinton's covert way of turning religion into a non-issue to George W. Bush's overt Christian messages, Balmer reveals the role religion has played in the personal and political lives of these American presidents.
Americans were once content to disregard religion as a criterion for voting, as in most of the modern presidential elections before Jimmy Carter.But today's voters have come to expect candidates to fully disclose their religious views and to deeply illustrate their personal relationship to the Almighty. God in the White House explores the paradox of Americans' expectation that presidents should simultaneously trumpet their religious views and relationship to God while supporting the separation of church and state. Balmer tells the story of the politicization of religion in the last half of the twentieth century, as well as the "religionization" of our politics. He reflects on the implications of this shift, which have reverberated in both our religious and political worlds, and offers a new lens through which to see not only these extraordinary individuals, but also our current political situation.
About the Author
Randall Balmer is professor of American religious history at Barnard College, Columbia University, and visiting professor at Yale University Divinity School. He is editor-at-large for Christianity Today, and his commentaries on religion in America have appeared in Sojourners, The Nation, the New York Times, and in newspapers across the country. He regularly appears on television and radio to discuss contemporary religious issues in America. Balmer has published eleven books including, Thy Kingdom Come: An Evangelical's Lament and Mine Eyes Have Seen the Glory: A Journey into the Evangelical Subculture in America, which was made into a three-part documentary for PBS. He lives in Woodbury, Connecticut, with his wife, Catherine Randall, who is also a professor and an author.
Praise For God in the White House…
A thoughtful analysis of the nine presidents from Kennedy to George W. Bush. Balmer contends that no clear connection exists between a president's faith and personal morality and his policies. . . Balmer's critique of American Christian's self-delusion and hubris is commendable.
-Books & Culture

Balmer traces the culture's journey from the days of Kennedy and his famous speech promising to keep religion out of politics to George W. Bush trolling explicitly for believers' votes . . . Balmer wisely counsels skepticism that candidates' religious statements foretell moral governance.
-The Boston Globe