The Snoring Bird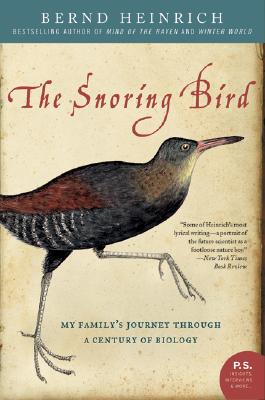 The Snoring Bird
My Family's Journey Through a Century of Biology
Harper Perennial, Paperback, 9780060742164, 461pp.
Publication Date: June 24, 2008
* Individual store prices may vary.
Buy at Local Store
Enter your zip code below to purchase from an indie close to you.
or
Buy Here
Description
Although Gerd Heinrich, a devoted naturalist, specialized in wasps, Bernd Heinrich tried to distance himself from his "old-fashioned" father, becoming a hybrid: a modern, experimental biologist with a naturalist's sensibilities.
In this extraordinary memoir, the award-winning author shares the ways in which his relationship with his father, combined with his unique childhood, molded him into the scientist, and man, he is today. From Gerd's days as a soldier in Europe and the family's daring escape from the Red Army in 1945 to the rustic Maine farm they came to call home, Heinrich relates it all in his trademark style, making science accessible and awe-inspiring.
Praise For The Snoring Bird…
"A remarkable story."
-Portland Press Herald

"...beautifully written story of a man's efforts to reconstruct posthumously the life of his father..."
-Jared Diamond, author of Guns, Germs, and Steel and Collapse

"...scientist and naturalist of the first rank and a nature writer of uncommon talent..."
-Edward O. Wilson

"...amazing saga, full of twists and turns...his magnum opus...vividly descriptive...he has produced his best book ever..."
-Bill McKibben, author of The End of Nature and Deep Economy

"...I couldn't leave its pages...it has joined the small collection of my most favorite book..."
-Elizabeth Marshall Thomas, anthropologist and author of the bestseller The Hidden Life of Dogs

"...extraordinary...a memoir of fun, daringness and intellectual curiosity, the heartwarming evolution of a modern biologist."
-Jean Craighead George, award-winning author of Julie of the Wolves

"...by one of the premier naturalists of our time...a splendid book, truly compelling, and bound to endure."
-Thomas Eisner

"Heinrich's stunning family saga...his magnum opus...vividly descriptive...he has produced his best book ever..."
-Alice Calaprice, award winning editor; author of the Quotable Einstein books, The Einstein Almanac, and Dear Professor Einstein

"...You will not want to put it down...an engrossing and powerful narrative of human achievement..."
-Samuel W.F. Wolfgang, author of German Boy and The War of Our Childhood

"One of the finest living examples of that strange hybrid: the science writer."
-Los Angeles Times Book Review

"Heinrich, who combines his keen scientific eye with the soul of a poet, enthralls."
-New York Times Book Review

"The Snoring Bird...show[s] readers why the work of an observant field biologist still matters."
-Los Angeles Times Book Review

"Arguably today's finest naturalist author...our latter-day Thoreau."
-Publishers Weekly

"Some of Heinrich's most lyrical writing...the future scientist as a footloose nature boy."
-New York Times Book Review

"...brilliant...there is in Heinrich's every page, wonderment."
-San Francisco Chronicle

"...splendid nature writing...a fascinating glimpse of the growth of one scientist's mind. Heartily recommended."
-Library Journal