American Passage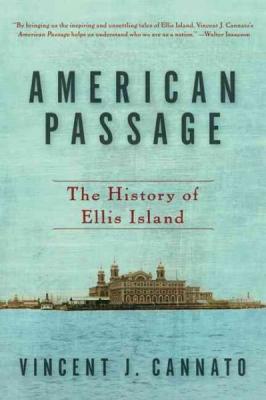 American Passage
The History of Ellis Island
Harper Perennial, Paperback, 9780060742744, 487pp.
Publication Date: May 4, 2010
* Individual store prices may vary.
Buy at Local Store
Enter your zip code below to purchase from an indie close to you.
or
Buy Here
Description
For most of New York's early history, Ellis Island had been an obscure little island that barely held itself above high tide. Today the small island stands alongside Plymouth Rock in our nation's founding mythology as the place where many of our ancestors first touched American soil.
American Passage captures a time and a place unparalleled in American immigration and history, and articulates the dramatic and bittersweet accounts of the immigrants, officials, interpreters, and social reformers who all played an important role in Ellis Island's chronicle. In this sweeping, often heart-wrenching epic, Vincent J. Cannato reveals that the history of Ellis Island is ultimately the story of what it means to be an American.
Praise For American Passage…
"Mr. Cannato's writing is vivid and accessible, and his approach is admirably even-handed."
-The Wall Street Journal

"Historian Vincent Cannato appears to have overlooked nothing in telling the tale of the historic island, now a national monument. . . . Cannato is not only a meticulous researcher and historian, he's also a lively storyteller. A rare combination."
-USA Today

"Cannato does a masterful job of weaving together a slew of singular immigrant stories with the larger issues that surrounded newcomers. He gives us the politics, the health scares and epidemics, the crowding, the corruption and the public policy."
-The New York Post

"Cannato navigates the crosscurrents of immigration since the 1700s, illustrating his tale generously with odd facts and highly readable stories."
-Associated Press

"The story of America is one of immigration. By bringing us the inspiring and sometimes unsettling tales of Ellis Island, Vincent Cannato's American Passage helps us understand who we are as a nation."
-Walter Isaacson, author of Einstein

"Reading Vincent Cannato's American Passage was an amazing journey into our nation's immigrant past. Never before has Ellis Island been written about with such scholarly care and historical wisdom. Highly recommended!"
-Douglas Brinkley, author of The Great Deluge

"Immigration has long been a critical slice of the American narrative, and here, in American Passage, Vincent Cannato tells its story with great brio. From landing point to national Monument, from immigrants to interpreters, we see the veritable Babel of Ellis Island play out across the years."
-Jay Winik, author of The Great Upheaval and April 1865

"To his great credit Cannato does not pretend to answer our tough questions about immigration, nor to find a 'usable past' in the history of Ellis Island. He just tells one heck of a story that oozes with relevance."
-Walter A. McDougall, winner of the Pulitzer Prize and author of Throes of Democracy

"Although Ellis Island is about immigrants from far-away places, it is in fact as American as Thanksgiving and apple pie. This amazing story is recounted beautifully in Vincent Cannato's well-written and evocative book, which will bring pleasure and profit to readers."
-Kenneth T. Jackson, editor in chief, Encyclopedia of New York City

"Cannato resists the temptation to setimentalize Ellis Island. He understands that, now as then, immigration is an issue that leaves Americans uncomfortable and contentious, even as it continues to bring new blood and energy into the country."
-Jonathan Yardley, The Washington Post