What's Right with Islam Is What's Right with America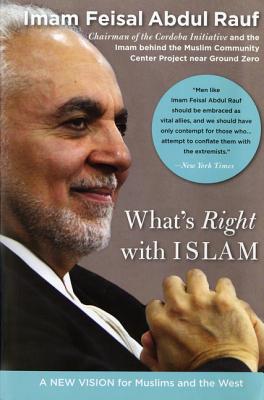 What's Right with Islam Is What's Right with America
A New Vision for Muslims and the West
HarperOne, Paperback, 9780060750626, 314pp.
Publication Date: April 26, 2005
* Individual store prices may vary.
Buy Now
or
Shop Local
Enter your zip code below to purchase from an indie close to you.
Description
An American imam offers answers for today's toughest questions about Islam, and a vision for a reconciliation between Islam and the West.
One of the pressing questions of our time is what went wrong in the relationship between Muslims and the West. Continuing global violence in the name of Islam reflects the deepest fears by certain Muslim factions of Western political, cultural, and economic encroachment. The solution to the current antagonism requires finding common ground upon which to build mutual respect and understanding. Who better to offer such an analysis than an American imam, someone with a foot in each world and the tools to examine the common roots of both Western and Muslim cultures; someone to explain to the non-Islamic West not just what went wrong with Islam, but what's right with Islam.
Focused on finding solutions, not on determining fault, this is ultimately a hopeful, inspiring book. What's Right with Islam systematically lays out the reasons for the current dissonance between these cultures and offers a foundation and plan for improved relations. Wide-ranging in scope, What's Right with Islam elaborates in satisfying detail a vision for a Muslim world that can eventually embrace its own distinctive forms of democracy and capitalism, aspiring to a new Cordoba - a time when Jews, Christians, Muslims, and all other faith traditions will live together in peace and prosperity.
About the Author
Feisal Abdul Rauf is the imam of Masjid al-Farah in New York City. Shortly after the attacks of September 11, he appeared on numerous radio and television shows, including BBC World, ABC News, CBS Evening News, CNN, and 60 Minutes. Born in Kuwait to a long line of imams, Abdul Rauf was educated in England, Egypt, and Malaysia. He is also a graduate of Columbia University in the United States. In 1997, Imam Abdul Rauf founded the ASMA Society, a not-for-profit educational and cultural organization dedicated to building bridges between the American public and American Muslims, and cofounded the Cordoba Initiative, a multi-faith effort to help heal the relationship between the Muslim world and America. A trustee of the Islamic Center of New York, he is on the board of One Voice, a group whose initiative is to bring about peace between Israelis and Palestinians, and was recently appointed as a member of the Council of 100 Leaders to the World Economic Forum on West-Islamic World Dialogue. Abdul Rauf is the author of two previous books, Islam: A Search for Meaning and Islam: A Sacred Law, What Every Muslim Should Know About the Shari'ah.
Praise For What's Right with Islam Is What's Right with America…
"This book shows that the only possible way forward is by the assiduous cultivation of mutual respect."
-Karen Armstrong, author of The Battle for God, from the foreword

"An excellent work of bridge building!"
-Professor Dr. Hans Kung, President, Global Ethic Foundation, author of On Being a ChristianProfessor Dr. Hans Kung, President, Global Ethic Foundation, author of On Being a Christian

"Wise and well-written, this important book is a 'MUST' for any thinking person who cares about our world."
-Lord Carey of Clifton, Chair of World Economic Forum's Council of 100 Leaders on West-Islamic World Dialogue

"At long last, a book that helps "us Westerners" to see Muslims as they wish to see themselves."
-Gunnar Stålsett - Bishop of Oslo, Lutheran Church of Norway, member of the Nobel Peace Prize Committee

"A searching, thoughtful and reasoned alternative to the shrill doomsayers who proclaim a 'clash of civilizations.'"
-Shashi Tharoor, United Nations Under-Secretary-General for Communications and Public Information

"The publication of this book is a timely event, providing objective, serious responses to challenges that Islam faces today."
-Prof. Seyyed Hossein Nasr, author of The Heart of Islam

Rauf argues that what keeps the Islamic world and America apart is economics, politics, Muslim defensiveness—everything but religion.
-Publishers Weekly

"An important counterweight to anti-Islamic polemics."
-Library Journal

"An invigorating glimpse into the heart and mind of a wise Muslim seeking the higher ground."
-Christian Science Monitor

"What's Right with Islam... reveals a man dedicated to fitting the Muslim square peg into an American round hole - an at times awkward task that Rauf often carries out quite effectively."
-Religion Dispatches Magazine