The Importance of Being Foolish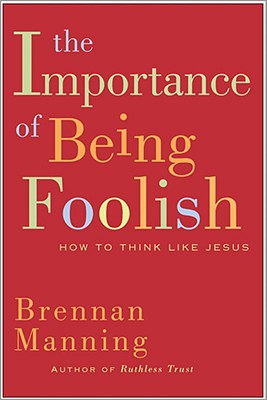 The Importance of Being Foolish
How to Think Like Jesus
HarperOne, Hardcover, 9780060751654, 182pp.
Publication Date: June 28, 2005
* Individual store prices may vary.
Not Currently Available for Direct Purchase
or
Shop Local
Enter your zip code below to purchase from an indie close to you.
Description
In the eyes of the world, Jesus was a fool. He did not abide by the rules of his day; the people he associated with were shunned by society; his Sermon on the Mount reads likea primer on being left behind, stepped on, and ignored. In order for us to truly be the people Jesus wants us to be, we too must learn to become "foolish."
Becoming a Christian is not a magical enterprise by which we are automatically transformed into better people. We must train to become who God intends us to be. In The Importance of Being Foolish, bestselling Christian author Brennan Manning teaches us how to think like Jesus. By reorienting our lives according to the gospel we may appear to be fools in the eyes of the world, but Manning reveals that this is exactly what Jesus wants.
In a powerful exploration of the mind of Christ, Manning reveals how our obsession with security, pleasure, and power prevents us from living rich and meaningful lives. Our endless struggle to acquire money, good feelings, and prestige yields a rich harvest of worry, frustration, and resentment. Manning explores what Christ's mind was truly focused on: finding the Father, compassion for others, a heart of forgiveness, and the work of the kingdom.
Coming from the gentle yet compelling voice of Brennan Manning, The Importance of Being Foolish is a refreshing reminder of the radical call of Jesus and the transforming love of God.
About the Author
Jim Hancock invested two decades as a church-based youth worker. Now he spends his days in Leucadia, California, writing and creating digital movies and learning designs for youth workers, parents, and adolescents. He's the author of Raising Adults, Ten Things We Should Never Say to Kids, The Justice Mission, as well as many other resources, and co-author of The Youth Worker's Guide to Helping Teens in Crisis, The Parents Guide to Helping Teenagers in Crisis and Posers, Fakers & Wannabes.
Praise For The Importance of Being Foolish…
"Being Foolish is a message of unsettling grace. It is the best kind of wisdom."
-John Ortberg, Teaching Pastor, Menlo Park Presbyterian Church

"Manning offers a fiercly provacative call to arms..."
-Publishers Weekly (starred review)

"This is a deeply felt and clearly expressed avowal of faith..."
-Library Journal

"[W]orth the read for all the insights--and encouragement--Manning offers on leading a Christ-centered life."
-Christian Retailing

"Manning… writes poetically when sharing contemporary parables. His intimate knowledge of Scripture flows seamlessly throughout his narrative."
-Cleveland Plain Dealer

"Manning invites the reader to move from self-delusion to embracing the truth about who we are."
-Christianity Today

"A rich feast of food for thought...offering both challenge and comfort."
-National Catholic Reporter