Seize the Fire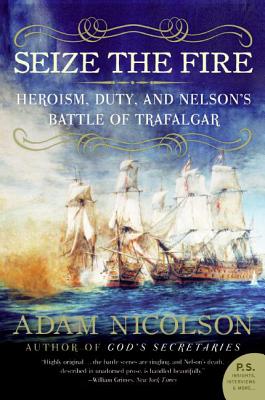 Seize the Fire
Heroism, Duty, and Nelson's Battle of Trafalgar
Harper Perennial, Paperback, 9780060753627, 341pp.
Publication Date: August 1, 2006
* Individual store prices may vary.
Buy at Local Store
Enter your zip code below to purchase from an indie close to you.
or
Not Currently Available for Direct Purchase
Description
In October 1805 Lord Horatio Nelson, the most brilliant sea commander who ever lived, led the British Royal Navy to a devastating victory over the Franco-Spanish fleets at the great battle of Trafalgar. It was the foundation of Britain's nineteenth-century world-dominating empire. Adam Nicolson's Seize the Fire is not only a close and revealing portrait of a legendary hero in his final action but also a vivid account of the brutal realities of battle; it asks the questions: Why did the winners win? What was it about the British, their commanders and their men, their beliefs and their ambitions, that took them to such overwhelming victory?
Praise For Seize the Fire…
"Elegant and imaginative."
-Jonathan Yardley, Washington Post

"The reader will find nothing dull about this sparkling work...majestic, poetic and, at base, authentic."
-Literary Review

"Vibrant and welcome addition to the admittedly already large library of Nelsonia."
-Jonathan Bouquet, The Observer

"A well-reasoned transoceanic rejoinder to Freeman's Affairs of Honor, and a pleasure for fans of Aubrey and Hornblower."
-Kirkus Reviews

"Bold and provocative...Nicolson's book stands out from amongst its rivals."
-Sunday Telegraph

"argued with vigour and written with grace, it is an illuminating piece of interpretive cultural history."
-Sunday Times (London)

"Nicolson's eye for detail creates a compelling readability."
-The Spectator

"full of suspense and vivid, raw descriptions of the butchery...sublime writing"
-The Scotsman

"Of the books marking the bicentenary of...Trafalgar, Adam Nicolson's can claim to be one of the most original"
-The Week

"strikingly original...Mr. Nicolson brings to life superbly the horror, devastation and gore of Trafalgar."
-The Economist

"Nicolson brilliantly characterises each navy - British, French, Spanish - as an expression of the countries to which they belonged...vivid"
-Country Life

"Seize the Fire...is so ripping I faced the classic ocean-voyage quandary. Halfway through, my supply of pages dwindling, I started to ration...stirring, vividly written book."
-Independent on Sunday

"So ripping I faced the classic ocean-voyage quandary. Halfway through, my supply of pages dwindling, I started to ration."
-David Lipsky, New York Times Book Review

"A masterly reconstruction of this event."
-Christopher Hitchens, Atlantic Monthly

"A thrilling book."
-Bloomberg News