By Myself and Then Some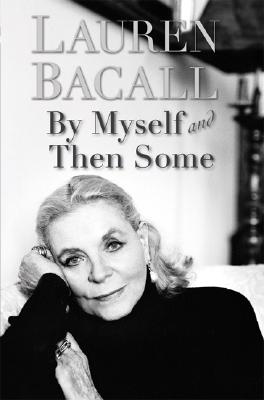 By Myself and Then Some
It Books, Hardcover, 9780060755355, 512pp.
Publication Date: March 1, 2005
* Individual store prices may vary.
Buy at Local Store
Enter your zip code below to purchase from an indie close to you.
or
Not Currently Available for Direct Purchase
Description
The epitome of grace, independence, and wit, Lauren Bacall continues to astound generations with her audacious spirit and on-screen excellence. Together with Humphrey Bogart she produced some of the most electric scenes in movie history, and their romance on and off screen made them Hollywood's most celebrated couple.
But when Bogart died of cancer in 1957, Bacall and their children had to take everything he had taught them and grow up fast. In a time of postwar communism, Hollywood blacklisting, and revolutionary politics, she mixed with the legends: Hemingway, the Oliviers, Katharine Hepburn, Bobby Kennedy, and Gregory Peck. She was engaged to Frank Sinatra and had a turbulent second marriage to Jason Robards. But Bacall never lost sight of the strength that made her a superstar, and she never lost sight of Bogie.
Now, on the silver anniversary of its original publication, Bacall brings her inspiring memoir up to date, chronicling the events of the past twenty-five years, including her recent films and Broadway runs, and her fond memories of many close lifelong friendships. As one of the greatest actresses of all time turns eighty, By Myself and Then Some reveals the legend in her own beautiful frank words -- encapsulating a story that even Hollywood would struggle to reproduce.
About the Author
Lauren Bacall was spotted by Howard Hawks when she was on the cover of Harper's Bazaar at eighteen. Her distinctive title -- The Look -- followed her first film To Have and Have Not with Humphrey Bogart, and together they had one of the greatest love affairs of all time. Bacall went on to make more than fifty films and continues to be a major presence in the industry. She is the recipient of many lifetime achievement awards, two Tony awards, two Golden Globes, and an Oscar nomination. She is the mother of Stephen, Leslie, and Sam, and continiues to live in New York City with her beloved papillon, Sophie.
Praise For By Myself and Then Some…
"What amazing memories of and links to a glamorous and vanished era."
-Daily Mail (London)

"Bacall writes eloquently... The actress comes across here as fair-minded and independent."
-Providence Journal

"...[Bacall's] wit and feisty resilience endures."
-Sunday Times (London)

"...her fans will not be disappointed."
-Time Out New York

"BY MYSELF has some powerful moments...it is still a fine read."
-Denver Rocky Mountain News

"What a treasure."
-Washington Post

"...Bacall...always made the most of what she had, as this memoir proves for the second time."
-Chicago Sun-Times

"...an enthralling account of her life...it is a book many people are sure to enjoy.
-Mosman & Lower North Shore Daily (Australia)

"The book's a must-read. The lady's a class act."
-BPI Entertainment News Wire

"The back story of Bogie and Bacall is just one of the many reasons to pick up a copy...
-Denver Rocky Mountain News

"...Perceptive and penetrating."
-Magill Book Reviews

"Backstage Hollywood takes center stage in BY MYSELF AND THEN SOME."
-Associated Press

"...this new version of her life is as stimulating as it was when it first appeared in 1978."
-Richmond Times-Dispatch

"Her writing echoes her deep, sardonic, no-nonsense timbre and jazzy tempo."
-Chicago Sun-Times on Now

"Bacall's a class act."
-Publishers Weekly

"Any fan of Bacall or Bogart will want to read this update...highly recommended."
-Library Journal

"...a fascinating story of one woman's journey through life with an intimacy that's sure to engage legions of readers."
-Booklist

"...Bacall entertains with her signature breathy prose, straightforward manner, and unmatchable style."
-Booklist

"In a word Lauren Bacall By Myself is terrific...and she wrote this book as she lived it."
-Boston Globe