Mrs. Lincoln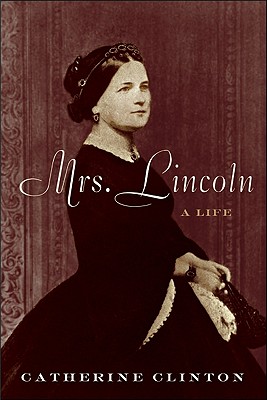 Mrs. Lincoln
A Life
HarperTorch, Hardcover, 9780060760403, 415pp.
Publication Date: January 6, 2009
* Individual store prices may vary.
Buy at Local Store
Enter your zip code below to purchase from an indie close to you.
or
Not Currently Available for Direct Purchase
Description
Abraham Lincoln is the most revered president in American history, but the woman at the center of his life, his wife, Mary, has remained a historical enigma. In this definitive, magisterial biography, Catherine Clinton draws on important new research to illuminate the remarkable life of Mary Lincoln, and at a time when the nation was being tested as never before.
Mary Lincoln's story is inextricably tied with the story of America and with her husband's presidency, yet her life is an extraordinary chronicle on its own. Born into an aristocratic Kentucky family, she was an educated, well-connected Southern daughter, and when she married a Springfield lawyer she became a Northern wife an experience mirrored by thousands of her countrywomen. The Lincolns endured many personal setbacks including the death of a child and defeats in two U.S. Senate races along the road to the White House. Mrs. Lincoln herself suffered scorching press attacks, but remained faithful to the Union and her wartime husband. She was also the first presidential wife known as the "First Lady," and it was in this role that she gained her lasting fame. The assassination of her husband haunted her for the rest of her life. Her disintegrating downward spiral resulted in a brief but traumatizing involuntary incarceration in an asylum and exile in Europe during her later years. One of the most tragic and mysterious of nineteenth-century figures, Mary Lincoln and her story symbolize the pain and loss of Civil War America.
Authoritative and utterly engrossing, Mrs. Lincoln is the long-awaited portrait of the woman who so richly contributed to Lincoln's life and legacy.
About the Author
Catherine Clinton earned her undergraduate degree in Afro-American studies from Harvard University and her Ph.D. in history from Princeton. She is the author of many historical works for children and adults, and has taught African American Studies at Brandeis University, Brown University, Harvard University, and Queen's University Belfast, Northern Ireland . Dr. Clinton lives in San Antonio, Texas, where she's Denman Professor of American History at the University of Texas San Antonio.
Praise For Mrs. Lincoln…
"Noted historian Catherine Clinton manages to enlighten readers, confirm some well-documented stories, question others and offer additional insights into one of the most complicated fist ladies in American history. . . . Clinton has allowed history to make a more fair-minded appraisal of Mary Lincoln's life."
-The Courier-Journal

"We can never get enough of Lincoln, and we can never get enough of his family. Catherine Clinton's fascinating book feeds that hunger."
-Ken Burns

"Clinton's careful research and thoughtful presentation result in the best treatment of the troubled life of Mary Lincoln in recent memory. . . . Mary was, and continues to be, controversial, but, as Clinton submits, she remains a figure of great color, worthy of continued interest."
-Booklist (starred review)

"Our most controversial first lady, Mary Lincoln was reviled by her critics and few historians have treated her kindly. Lively and entertaining, Mrs. Lincoln will cause readers to rethink the stereotypes about Mary—and perhaps to question some of their beliefs about her husband as well."
-David Herbert Donald, author of Lincoln

"As wife and widow of America's greatest president, Mary Lincoln was the focus of cruel controversies in her lifetime and among historians ever since. With sensitivity and empathy, Catherine Clinton brings us the real Mary Lincoln—a tragic yet compelling figure."
-James McPherson

"In this remarkable book, Catherine Clinton displays an emotional depth in her understanding of Mary Lincoln that has rarely been revealed in the Lincoln literature. This engaging, wonderfully written narrative provides fresh insight into this complex woman whose intelligence and loving capacities were continually beset by insecurities."
-Doris Kearns Goodwin

"Clinton's portrait is distinctive for its abiding sanity, its deft and in-depth handling of the White House years, and for the consistent quality of its prose."
-Joseph Ellis