I'll Sleep When I'm Dead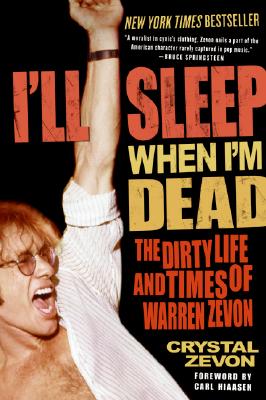 I'll Sleep When I'm Dead
The Dirty Life and Times of Warren Zevon
Harper Paperbacks, Paperback, 9780060763497, 452pp.
Publication Date: May 6, 2008
* Individual store prices may vary.
Buy at Local Store
Enter your zip code below to purchase from an indie close to you.
or
Buy Here
Description
When Warren Zevon died in 2003, he left behind a rich catalog of dark, witty rock 'n' roll classics, including "Lawyers, Guns and Money," "Excitable Boy," and the immortal "Werewolves of London." He also left behind a fanatical cult following and veritable rock opera of drugs, women, celebrity, genius, and epic bad behavior. As Warren once said, "I got to be Jim Morrison a lot longer than he did."
Narrated by his former wife and longtime co-conspirator, Crystal Zevon, this intimate and unusual oral history draws on interviews with Bruce Springsteen, Stephen King, Bonnie Raitt, and numerous others who fell under Warren's mischievous spell. Told in the words and images of the friends, lovers, and legends who knew him best, I'll Sleep When I'm Dead captures Warren Zevon in all his turbulent glory.
Praise For I'll Sleep When I'm Dead…
"In one of the most unflinching examinations of the rock & roll life ever, Warren Zevon's ex-wife Crystal paints a harrowing picture of a brilliant mind ravaged by alcohol — using excerpts from the late singer-songwriter's journals and interviews with friends including Jackson Browne and Bruce Springsteen."
-Rolling Stone, The Best of Rock Issue

"I'll Sleep When I'm Dead turns out to be one of the most casually insightful rock bios ever." Grade: A-
-Entertainment Weekly

" The book reveals a smartass satirist . . . as bankrupt as the characters he documented in his songs."
-Los Angeles Times

"[A] new, riveting oral history... unflinching interviews with his friends, admirers and fellow hell-raisers."
-Rolling Stone

"... an unforgettable journey into the depths of Mr. Zevon's mad genius."
-New York Times

"Few books have captured so well the L.A. rock and roll scene in all its mindlessness and eloquence."
-Los Angeles Magazine

"…I'll Sleep When I'm Dead definitely piles up enough horrendous behavior to back the title's claim."
-New York Times Book Review

"It's a frank account of yet another great talent taken down by his own demons."
-Time Out Chicago

".. a fascinating collection of anecdotes... as assembled by his ex-wife, Crystal Zevon. "
-Philadelphia Daily News

"[It's] a satisfyingly sordid read that's full of bad behavior…"
-Philadelphia Inquirer

"… that's what this book is about—humanizing this mythic character"
-Harp Magazine

"… a grisly but fascinating rock 'n' roll journal…"
-Birmingham News

"Crystal Zevon succeeds in channeling Warren Zevon, giving us a complete, engrossing picture of a compelling artist."
-Orlando Sentinel

"...the book [is] a tender song in itself."
-Seattle Times

"It's a lurid, page-turning read, filled with big successes and deep lows."
-Fort Worth Star-Telegram

"…packed full of... the cynical humor for which Warren Zevon was so famous."
-Bangor Daily News

"This often searing, humorous, and brutally honest book captures him at his best and his worst."
-Booklist

"All pop music collections need this book."
-Library Journal

"This is an extraordinary book -- unflinchingly honest, scarily funny, relentlessly cynical and always immensely entertaining. Just like Warren Zevon."
-Dave Barry

"A moralist in cynic's clothing, Zevon nails a part of the American character rarely captured in pop music."
-Bruce Springsteen

"Warren Zevon...was one of the most interesting writers of the era, and certainly ahead of his time. "
-Gore Vidal

"A harrowing ride through the backstreets of the L.A. music business with the King of Song Noir."
-Jackson Browne

"Zevon...was a brilliant, funny, biting, tender storyteller...and [this] will keep him in your heart."
-Mitch Albom, author of FOR ONE MORE DAY and TUESDAYS WITH MORRIE