Egypt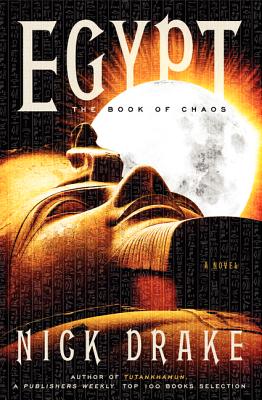 Egypt
The Book of Chaos
Harper, Hardcover, 9780060765941, 352pp.
Publication Date: December 1, 2011
* Individual store prices may vary.
Buy at Local Store
Enter your zip code below to purchase from an indie close to you.
or
Not Currently Available for Direct Purchase
Description
The future of Egypt lies in the hands of chief detective Rahotep in this final installment of Nick Drake's acclaimed ancient Egyptian trilogy.
King Tutankhamun has died without an heir, and his young widow, Queen Ankhesenamun, last of her dynasty, struggles to maintain power and order. To defeat her enemies, she has but one hope: to forge an alliance with the Hittites, a powerful, militant new empire that threatens Egypt's supremacy.
The loyal Rahotep, chief detective of the Thebes Medjay—the ancient capital's elite police force—and his friend, the royal envoy Nakht, are sent on a clandestine mission to the Hittite homeland, to persuade the king to agree to a marriage between one of his sons and Ankhesenamun—a union that would bring peace to the region and consolidate the queen's power.
Back in Egypt, the nefarious General Horemheb is poised to use his army to impose martial law and destroy the dynasty. But he is not the only enemy vying for control. A mysterious and brutal new opium cartel has emerged within the criminal underworld of Thebes, ready to take over the lucrative black market—and, ultimately, the very heart of the government.
In this epic quest to the dark heart of the ancient world, Rahotep must also confront his own demons if he is to prevent the gathering forces of chaos from destroying Egypt's greatest dynasty, and to return home in time to save his own family from the terror that threatens them all.
Based on a true story and meticulously researched, Egypt: The Book of Chaos brings to life the ancient world and the cradle of civilization in a riveting, suspenseful finale to Nick Drake's acclaimed trilogy.
Praise For Egypt…
"This much can be stated with assurance: this novel will be a huge hit with fans of the series, of Egypt-themed mysteries, of period mysteries, of modern-day thrillers, and—what the heck—anyone not included in those groups."
-Booklist (starred review)