The Science of Liberty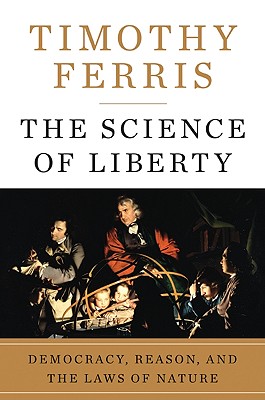 The Science of Liberty
Democracy, Reason, and the Laws of Nature
Harper, Hardcover, 9780060781507, 384pp.
Publication Date: February 1, 2010
* Individual store prices may vary.
Buy at Local Store
Enter your zip code below to purchase from an indie close to you.
or
Not Currently Available for Direct Purchase
Description
In his most important book to date, award-winning author Timothy Ferris "the best popular science writer in the English language today" (Christian Science Monitor) makes a passionate case for science as the inspiration behind the rise of liberalism and democracy. Ferris argues that just as the scientific revolution rescued billions from poverty, fear, hunger, and disease, the Enlight-enment values it inspired has swelled the number of persons living in free and democratic societies from less than 1 percent of the world population four centuries ago to more than a third today.
Ferris deftly investigates the evolution of these scientific and political revolutions, demonstrating that they are inextricably bound. He shows how science was integral to the American Revolution but misinterpreted in the French Revolution; reflects on the history of liberalism, stressing its widely underestimated and mutually beneficial relationship with science; and surveys the forces that have opposed science and liberalism from communism and fascism to postmodernism and Islamic fundamentalism.
A sweeping intellectual history, The Science of Liberty is a stunningly original work that transcends the antiquated concepts of left and right.
About the Author
Timothy Ferris's works include Seeing in the Dark, The Mind's Sky (both New York Times best books of the year), and The Whole Shebang (listed by American Scientist as one of the one hundred most influential books of the twentieth century). A fellow of the American Association for the Advancement of Science, Ferris has taught in five disciplines at four universities. He is an emeritus professor at the University of California, Berkeley and a former editor of Rolling Stone. His articles and essays have appeared in The New Yorker, Time, Newsweek, Vanity Fair, National Geographic, Scientific American, The Nation, The New Republic, The New York Review of Books, The New York Times Book Review, and many other publications. A contributor to CNN and National Public Radio, Ferris has made three prime-time PBS television specials: The Creation of the Universe, Life Beyond Earth, and Seeing in the Dark. He lives in San Francisco.
Praise For The Science of Liberty…
"Unfashionably optimistic. . . . Ferris provides irrefutable evidence that, despite the tragedies of war and terrorism, there has been astounding progress in both the living standards and the degree of personal freedom enjoyed by the majority of the human race."
-The Financial Times

"Lucid and captivating. . . . Deeply important. . . . Ferris's clear and educative account makes for an enjoyable read."
-A. C. Grayling, The New Scientist

"An important and extremely readable book. . . . Lively. . . . Clear and perceptive. . . . Ferris is one of America's most skillful communicators about science. . . . He shows himself a fascinating historian too."
-The San Francisco Chronicle

"Engaging. . . . Ambitious. . . . Ferris usefully reminds us that science was an integral part of the intellectual equipment of the great pioneers of political and individual liberty."
-The New York Times Book Review

"An important, timely, and splendidly written book. . . . Ferris is among the half-dozen foremost explicators of the physical sciences alive today. . . . The Science of Liberty is a profound delight."
-The Washington Post