The Mental Floss History of the World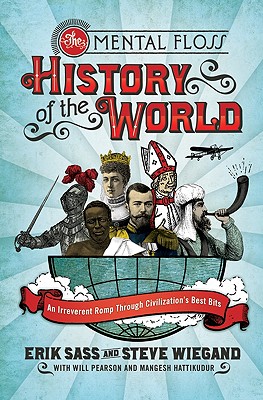 The Mental Floss History of the World
An Irreverent Romp Through Civilization's Best Bits
Collins Publishers, Hardcover, 9780060784775, 416pp.
Publication Date: October 28, 2008
* Individual store prices may vary.
Buy Now
or
Shop Local
Enter your zip code below to purchase from an indie close to you.
Description
History is . . .
(a) more or less bunk.
(b) a nightmare from which I am trying to awaken.
(c) as thoroughly infected with lies as a street whore with syphilis.
Match your answers:
(1) Stephen Daedalus of James Joyce's Ulysses
(2) Henry Ford
(3) Arthur Schopenhauer
It turns out that answer need not be bunk, nightmarish, or diseased. In the hands of mental_floss, history's most interesting bits have been handpicked and roasted to perfection. Packed with little-known stories and outrageous—but accurate—facts, you'll laugh yourself smarter on this joyride through 60,000 years of human civilization. Remember: just because it's true, doesn't mean it's boring!
About the Author
Erik Sass is a journalist based in Los Angeles with branch offices around the country. When not writing for mental_floss, he reports on the media and advertising business for MediaPost.com.
An award-winning political journalist and history writer for more than three decades, Steve Wiegand has worked as a reporter and columnist for the San Diego Evening Tribune, the San Francisco Chronicle, and the Sacramento Bee, where he currently covers state government and politics.
During his career, he has interviewed four presidents and six California governors and has the dubious distinction of once being airsick and throwing up on the shoes of the state attorney general's wife.
It may have been his greatest personal contribution to world history.
Wiegand is a graduate of Santa Clara University, where he majored in American literature and U.S. history. He also holds a Master of Science degree in Mass Communications from California State University, San Jose.
In addition to The mental_floss History of the World, Wiegand is the author of U.S. History for Dummies, Sacramento Tapestry, and Papers of Permanence, a contributing author to mental_floss presents: Forbidden Knowledge, and a frequent contributor to mental_floss magazine.
He lives in Northern California.
Will Pearson and Mangesh Hattikudur met as freshmen at Duke University, where they parlayed their cafeteria conversations into the first issue of mental_floss. magazine They have collaborated on more than ten books together, including Condensed Knowledge, Forbidden Knowledge, and The mental_floss History of the World.
Praise For The Mental Floss History of the World…
"[A]n admirable job of covering 60,000 years of human history in one volume. Along with the names of people and places, the dates and statistics, the wars, disasters, revelations, and accomplishments, there are fascinating stories, hilarious oddities, and plenty of fun….[A] wealth of information."
-School Library Journal