The Ruin of the Roman Empire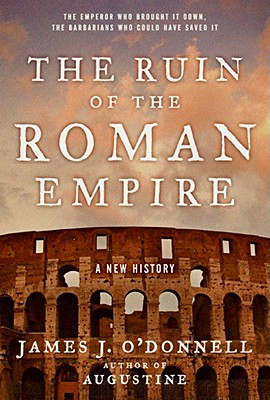 The Ruin of the Roman Empire
A New History
Ecco, Hardcover, 9780060787370, 448pp.
Publication Date: September 1, 2008
* Individual store prices may vary.
Not Currently Available for Direct Purchase
or
Shop Local
Enter your zip code below to purchase from an indie close to you.
Description
The dream Alexander the Great and Julius Caesar shared of uniting Europe, the Medi­terranean, and the Middle East in a single community shuddered and then collapsed in the wars and disasters of the sixth century. It was a looking-glass world, where some Romans ideal­ized the Persian emperor while barbarian kings in Italy and France worked tirelessly to save the pieces of the Roman dream they had inherited. At the center of the old Roman Empire, in his vast and pompous Constantinople palace, the emperor Justinian, with too little education and too much religion, set out to restore his empire to its glories. Step by step, the things he did to bring back the past sealed the doom of his entire civilization.
Historian and classicist James J. O'Donnell—who last brought us his masterful, disturbing, and revelatory biography of Saint Augustine—revisits this old story in a fresh way, bringing home its sometimes painful relevance to issues of our own time.
With unexpected detail and in his hauntingly vivid style, O'Donnell begins at a time of apparent Roman revival and brings us to the moment of imminent collapse that just preceded the rise of Islam. Illegal migrations of peoples, religious wars, global pandemics, and the temptations of empire: Rome's end foreshadows our own crises and offers hints how to navigate them—if we will heed this story.
About the Author
James J. O'Donnell is a distinguished classicist and has published widely on the history and culture of the late antiquities. A longtime professor of classics at the University of Pennsylvania, he has been provost of Georgetown University since 2002, is a fellow of the Medieval Academy of America, and served as president of the American Philological Association. He is a graduate of Princeton and received his Ph.D. from Yale. He hails from New Mexico and travels the world in search of traces of the ancient past—and fine dark chocolate.
Praise For The Ruin of the Roman Empire…
"O'Donnell's richly layered book provides significant glimpses into the many factors that leveled a mighty empire."
-Publishers Weekly

"A vigorous history of the decline and fall of the Roman Empire."
-Kirkus Reviews

"An exotic and instructive tale, told with life, learning and just the right measure of laughter on every page. O'Donnell combines a historian's mastery of substance with a born storyteller's sense of style to create a magnificent work of art. Perfect for history-lovers and admirers of great writing alike."
-Madeleine K. Albright, former U.S. Secretary of State