Focus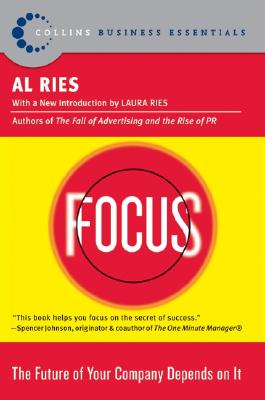 Focus
The Future of Your Company Depends on It
Harperbusiness Essentials, Paperback, 9780060799908, 304pp.
Publication Date: September 2005
* Individual store prices may vary.
Shop Local
Enter your zip code below to find indies closest to you.
Description
What's the secret to a company's continued growth and prosperity? Internationally known marketing expert Al Ries has the answer: focus. His commonsense approach to business management is founded on the premise that long-lasting success depends on focusing on core products and eschewing the temptation to diversify into unrelated enterprises.
Using real-world examples, Ries shows that in industry after industry, it is the companies that resist diversification, and focus instead on owning a category in consumers' minds, that dominate their markets. He offers solid guidance on how to get focused and how to stay focused, laying out a workable blueprint for any company's evolution that will increase market share and shareholder value while ensuring future success.
About the Author
Al Ries is Chairman of Ries & Ries, an Atlanta-based marketing strategy firm. He is a legendary marketing strategist and the bestselling author/coauthor of eleven books on marketing. Ries writes a monthly marketing column for AdAge.com, and he is frequently quoted in major publications.
Jack Trout is President of Trout & Partners Ltd., where he supervises a global network of experts that apply his concepts and develop his methodology around the world. Trout is recognized as the world's foremost marketing strategist; his concept of "positioning" has become the world's #1 business strategy. Trout writes a bimonthly column for Forbes.com.
Ries and Trout are also the authors of the marketing classic "Positioning".