I Am Not Myself These Days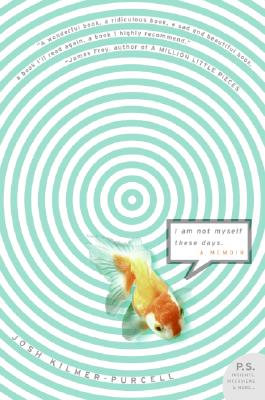 I Am Not Myself These Days
A Memoir
Harper Perennial, Paperback, 9780060817329, 308pp.
Publication Date: February 7, 2006
* Individual store prices may vary.
Buy at Local Store
Enter your zip code below to purchase from an indie close to you.
or
Buy Here
Description
I Am Not Myself These Days follows a glittering journey through Manhattan's dark underbelly -- a shocking and surreal world where alter egos reign and subsist (barely) on dark wit and chemicals...a tragic romantic comedy where one begins by rooting for the survival of the relationship and ends by hoping someone simply survives. Kilmer-Purcell is a terrifically gifted new literary voice who straddles the divide between absurdity and normalcy, and stitches them together with surprising humor and lonely poignancy. As Booklist raved "as tart and funny as a Noel Coward play, for Kilmer-Purcell is especially good at dialogue, and, as in Coward's best plays, under the comedy lies the sad truth that even at our best, we are all weak, fallible fools. Again and again in this rich, adventure-filled book, Kilmer-Purcell illustrates the truth of Blake's proverb, 'The road of excess leads to the palace of wisdom.'"
Praise For I Am Not Myself These Days…
"I laughed. I cried. I laughed again. I AM NOT MYSELF THESE DAYS is tawdry and brilliantly witty."
-Simon Doonan

"...absolutely hilarious and heartbreaking and heartfelt."
-Armistead Maupin, author of Tales of the City

"...a delicate narrative that spares not an ounce of pain but never once aims for contrition."
-Kirkus Reviews

"...impossible to look away."
-Publishers Weekly

"...Outrageously vulgar, unexpectedly moving, and one of the most sincere love stories I've read in a long time. "
-BookSense review by Audrey Brockhaus, Schuler Books & Music Okemos

Recipient of Elle's Readers' Prize 2006
-Elle

Book Sense Pick for March 2006
-Book Sense

"...the book goes deeper, ultimately telling what is a painfully dysfunctional love story..."
-Out Magazine

"I AM NOT MYSELF THESE DAYS is like the memoir equivalent of a hooker with a heart of gold."
-Zink Magazine

"...this life-altering (and ultimately heartbreaking) love story crawls deep into your veins."
-Zink Magazine

"…a very entertaining read… as tart and funny as a Noel Coward play, for Kilmer-Purcell is especially good at dialogue, and, as in Coward's best plays, under the comedy lies the sad truth that even at our best, we are all weak, fallible fools. Again and again in this rich, adventure-filled book, Kilmer-Purcell illustrates the truth of Blake's proverb, 'The road of excess leads to the palace of wisdom.'"
-Booklist

"...decadent and delirious, weird and wonderful."
-The New York Blade

"...plenty of dishy anecdotes and moments of tragi-camp delight."
-Washington Post

"...a good read, as you'd expect."
-Advertising Age

"Though Aqua is retired, her wit lives on in I AM NOT MYSELF THESE DAYS, with priceless one-liners aplenty."
-HX magazine

"Funny and wise."
-Metro

"Readers will find this tale of good-boy-turned-bad-drag-queen darkly hilarious and entertaining."
-Library Journal

" Through the varied and raucous details of his life experience, Kilmer-Purcell ...renders himself more accessible to all readers."
-InsideOut Nashville

"...an exotic, whirlwind tale of an unconventional life."
-Nashville City Paper

"The book is at once a sensational memoir and...a universal love story."
-Adweek

"...a talented new voice."
-Buzz Magazine

"While Kilmer-Purcell's way of life may be uncommon, his feelings of love, betrayal, loss and hope are universal."
-Jezebel Magazine

"...it's one hell of a spellbinding read."
-Chicago Sun-Times

"Kilmer-Purcell acheives the near-impossible task of getting jaded readres to root for this screwed-up pair..."
-Dallas Voice