The Dumpling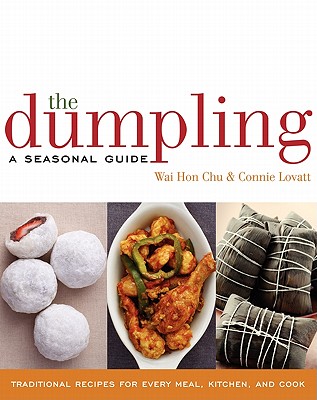 The Dumpling
A Seasonal Guide
William Morrow Cookbooks, Hardcover, 9780060817381, 432pp.
Publication Date: November 1, 2009
* Individual store prices may vary.
Buy at Local Store
Enter your zip code below to purchase from an indie close to you.
or
Not Currently Available for Direct Purchase
Description
The Dumpling: A Seasonal Guide by Wai Hon Chu and Connie Lovatt is the most comprehensive collection of dumpling recipes ever produced.
Discovering that dumplings—as a category of food—have never been properly defined, Chu and Lovatt developed a definition that takes into account the ingredients, cooking methods, and shapes that most commonly define dumplings, not just in a particular region or culture, but around the world.
"A dumpling is a portion of dough, batter, or starchy plant fare, solid or filled, that is cooked through wet heat, and is not a strand or a ribbon"
This exciting collection shows us that not only are pot stickers, pierogis, and shao mai dumplings but so too are tamales, steamed cakes, and steamed breads. From Chickpea Dumplings in a Tomato Sauce (India) to Leaf-Wrapped Rice Packages Stuffed with Peanuts and Sausage (China), from Chocolate Tamales (Mexico) to a "Napkin" Bread Dumpling with Cherries (Austria), from Cloud-Shaped Bread Buns (Tibet) to Potato Dumplings with Cabbage Layers (Hungary), dumplings, whether steamed or simmered, are as fun to make as they are to eat.
A truly passionate exploration of every dumpling type imaginable, The Dumpling contains dessert varieties, dumplings for gifts or entertaining, dozens of vegetarian and vegan options, fast and easy dumplings, as well as 21 pages of step-by-step dumpling making-illustrations. Arranged by month so as to encourage all of us to cook dumplings seasonally and year round, The Dumpling contains a recipe for every taste bud, table, and occasion.
Chapters 10, 11, and 12
October
No-Fuss Potato Dumplings • Spiced Carrot Pudding • Collard Greens with Corn Dumplings • Chicken Paprika with Dumplings • Bean Soup with Tiny Dumplings • Chickpea "Fish" in a Spicy Onion Sauce • Bacon and Sage Roly Poly • Daikon Cake • Cheddar Cheese and Potato Pierogi • Lentil and Onion Pierogi • Potato "Tamales" Stuffed with Chicken and Jalapeno • Beef-Stuffed Plantain Balls in a Cassava-Corn Soup
November
Dumplings and Cocky's Joy • "Napkin" Bread Dumpling • Turkey Stew with Stuffing Dumplings • Cranberry Pudding • Lord Randall's Pudding, An Apricot Dessert • Sticky Toffee Pudding • Potato Dumplings with Crouton Centers • Country Cabbage Soup with Large Cornmeal Dumplings • Philadelphia Pepperpot Soup with Dumplings • Large Beef- and Spinach-Filled Dumplings in Beef Broth • Dumplings Stuffed with Pears, Figs, and Chocolate • Pumpkin and Lentil Ravioli with Browned Butter and Rosemary • "Little Ear" Dumplings Stuffed with Mushrooms in a Beet Soup
December
Root Vegetable Bread Dumplings • Clootie Dumpling • Starchy Coconut Stew with Slippery Rice Balls • Guava Duff • Potato Dumplings with Cabbage Layers • John in the Sack • Classic Christmas Pudding • Chocolate Tamales • Siberian Meat Dumplings • Chestnut Ravioli with Sage Butter Sauce • Chicken-Filled Dumplings in an Escarole Soup • Dumplings Stuffed with "Stewed" Breadcrumbs
About the Author
Wai Hon Chu was born in Hong Kong and now lives in New York City's Chinatown. After graduating from the City University of New York, he pursued his culinary training at the Art Institute of New York and has cooked in a number of prominent restaurants in Manhattan. In 1999, he launched El Eden Chocolates, which grew into an East Village storefront offering more than twenty-five truffle varieties nationwide. Chu currently works as a cooking instructor at the Institute of Culinary Education, the Natural Gourmet Institute, and the Bowery Culinary Center at Whole Foods Market.
Praise For The Dumpling…
"A fine new book...richly instructional. So...study up, fling open your door and step out to sample this delightful, richly varied fare. Or stay at home, prop up your copy of The Dumpling, invite in a few friends and go traveling in your own kitchen."
-Nach Waxman, owner of Kitchen Arts & Letters