Ask the Dust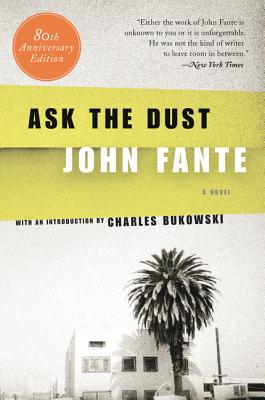 Ask the Dust
HarperCollins Publishers, Paperback, 9780060822552, 165pp.
Publication Date: February 2006
* Individual store prices may vary.
Buy Now
or
Shop Local
Enter your zip code below to purchase from an indie close to you.
Description
Ask the Dust is a virtuoso performance by an influential master of the twentieth-century American novel. It is the story of Arturo Bandini, a young writer in 1930s Los Angeles who falls hard for the elusive, mocking, unstable Camilla Lopez, a Mexican waitress. Struggling to survive, he perseveres until, at last, his first novel is published. But the bright light of success is extinguished when Camilla has a nervous breakdown and disappears . . . and Bandini forever rejects the writer's life he fought so hard to attain.
About the Author
John Fante began writing in 1929 and published his first short story in 1932. His first novel, Wait Until Spring, Bandini, was published in 1938 and was the first of his Arturo Bandini series of novels, which also include The Road to Los Angeles and Ask the Dust. A prolific screenwriter, he was stricken with diabetes in 1955. Complications from the disease brought about his blindness in 1978 and, within two years, the amputation of both legs. He continued to write by dictation to his wife, Joyce, and published Dreams from Bunker Hill, the final installment of the Arturo Bandini series, in 1982. He died on May 8, 1983, at the age of seventy-four.

Charles Bukowski (1920-1994) was a German-born American poet, novelist, and short story writer. His writing was influenced by the social, cultural, and economic ambiance of his home city of Los Angeles. He published his first story at twenty-four and began writing poetry at thirty-five, publishing extensively in small literary magazines and small presses from the early 1940s through the early '90s. The "King of the Underground," he remained loyal to those small press editors who had first championed his work. During his life he wrote thousands of poems, hundreds of short stories, and six novels, publishing over sixty books.