S.C.O.R.E. for Life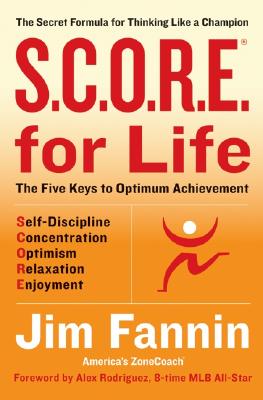 S.C.O.R.E. for Life
The Secret Formula for Thinking Like a Champion
HarperCollins Publishers, Hardcover, 9780060823252, 183pp.
Publication Date: January 3, 2006
* Individual store prices may vary.
Buy Now
or
Shop Local
Enter your zip code below to purchase from an indie close to you.
Description
Have you ever choked during a performance?
Have you ever been told how much talent you have, yet you're not reaching it?
Are you self-conscious or doubtful during performances?
Does your level of concentration fluctuate wildly?
Do you feel overwhelmed at times?
We all dream of overcoming our challenges. We dream of the perfect job, achieving new wealth, of living the life we choose in harmony with the people we love. For many of us, the dream stops there. We wonder what leads some extraordinary people to confront and exceed their goals and compete at the highest level, while others run in place, distracted by fears and a sense of intimidation. We seek the insights that will liberate us from anxiety and self-doubt. In this book, Jim Fannin shares a collection of ideas and daily exercises that transform everyday performers into true champions.
Using the secrets of Fannin's time-tested S.C.O.R.E. System (Self-Discipline, Concentration, Optimism, Relaxation, and Enjoyment), S.C.O.R.E. for Life shows you how to balance and apply these five principles in every arena of life. The result: more moments, days, and years performing and thinking in the state of flow we call the "Zone," and more of the results and success that matter. Every chapter includes reader-friendly tests and exercises, like the "90-Second Rule" (a lesson in discipline) and "The Palm Tree Versus the Oak Tree" (a lesson in adaptability).
For more than thirty years, Jim Fannin has coached hundreds of top-performing athletes and business leaders, who testify to what the S.C.O.R.E. System can do. It is a tried and proven blueprint for realizing our extraordinary human potential and overcoming the fears and worries that hold us back. With commitment and consistent use of this success formula, you will blaze new paths to personal and professional achievement.
About the Author
Jim Fannin is an author, consultant, and mental coach for the world's top athletes and corporate executives. He is the founder and creator of the S.C.O.R.E. Performance System, the leading peak performance program. Drawing from his thirty years of experience in sports, education, and business, Jim helps people from all walks of life become more successful by showing them how to attract the Zone mind-set.
Fannin was born and raised in the Appalachian town of Ashland, Kentucky, where his father was a government worker and his mother a nurse. His love for tennis led him to a full scholarship at East Tennessee State University, where he became the Ohio Valley Conference champion. After he earned a degree in marketing and psychology he played on the men's pro tennis tour in Europe. Upon leaving the tour, Jim coached seven players in the world's top 10. Client Adriano Panatta told him about his French Open victory, "It was amazing . . . I was so locked in and so in the moment . . . I had a feeling nothing could go wrong. The ball was as big as a grapefruit. I wish I could bottle it." At that moment, Jim knew his purpose in life was to find a way to bottle this Zone phenomenon and share it with others.
In 1977, Jim founded S.C.O.R.E. Performance Systems, Inc. Since then, he has studied and perfected the System into the leading formula to help people live, work, and play in the champion's mind-set called the Zone.
Alex Rodriguez is the third baseman for the New York Yankees. Three times voted the American League Most Valuable Player, he was born in New York City, moved with his family to their native Dominican Republic when he was four, then moved to Miami with his family at the age of eight. The only person in baseball history to hit 400 home runs before his thirtieth birthday, he hit his first home run at the age of six. Drafted out of high school, he played for the Seattle Mariners and then the Texas Rangers before being signed by the Yankees. Alex lives in New York City and Miami, Florida.
Alex Rodriguez juega la tercera base para los Yankees de Nueva York. Ha sido elegido dos veces como jugador mas valioso (MVP) de la Liga Americana. Nacio en Nueva York y a los cuatro anos se mudo con su familia a su pais de origen, la Republica Dominicana. Cuando Alex tenia ocho anos, regresaron para radicarse en Miami. El unico jugador en la historia del beisbol que ha bateado 400 jonrones antes de cumplir los treinta anos de edad, Alex bateo su primer jonron a los seis anos! Seleccionado en la escuela secundaria entre los mejores del pais por los Marineros de Seattle, jugo para los Rancheros de Texas antes de ser contratado por los Yankees. Alex, su esposa Cynthia y su hijita viven en la ciudad de Nueva York y en Miami, FL.