The Lovers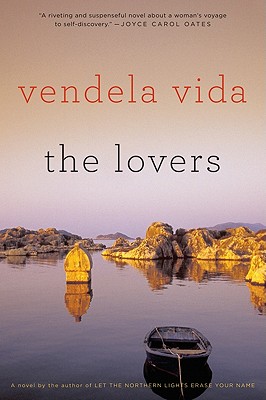 The Lovers
Ecco Press, Paperback, 9780060828400, 228pp.
Publication Date: June 28, 2011
* Individual store prices may vary.
Buy at Local Store
Enter your zip code below to purchase from an indie close to you.
or
Buy Here
Description
"Vendela Vida has written a riveting and suspenseful novel about an American woman's voyage to self-discovery."
--Joyce Carol Oates "Stunning. A masterful meditation on grief and love. The Lovers is a sensational novel from one of our finest writers at the height of her craft."
--Stephen Elliott, author of The Adderall Diaries In 2007, Vendela Vida's novel Let the Northern Lights Erase Your Name was a New York Times Notable Book of the Year. With her new novel, The Lovers, former Kate Chopin Writing Award winner Vida tells a powerful and beautiful tale of a widow returning alone to the site of her honeymoon in Turkey, and her subsequent journeys through her past and her present.
Praise For The Lovers…
"Quietly provocative, The Lovers explores the perils of self-involvement and the ease with which we destroy one another's lives."
-People

"Haunting....Vida, a cofounder and coeditor of literary magazine The Believer, has a gift for probing the workings of memory."
-Time Out New York

"Stunning. A masterful meditation on grief and love. The Lovers is a sensational novel from one of our finest writers at the height of her craft."
-Stephen Elliott, author of THE ADDERALL DIARIES

Vendela Vida writes with elegance and economy. In this engrossing novel, she has managed to combine a stingingly acute portrait of grief, a moving meditation on love (both filial and romantic) and a page-turning adventure.
-Zoë Heller, author of The Believers

"[Vida] has an eye for understated details that leap from the page and linger in the soul...Vida deftly weaves the power of description into the broader tapestry of Yvonne's journey...THE LOVERS, slim and transportive, is an invitation to join Yvonne on her journey. It's worth the trip."
-St. Louis Post-Dispatch

"A wise and generous book."
-Aleksandar Hemon, author of National Book Award Finalist THE LAZARUS PROJECT

"A languorous meditation on how accidents of fate shape a life."
-Vogue

"A captivating account of a woman seeking escape and discovering emotional clarity...THE LOVERS is both a meditation on grieving and a gripping page-turner."
-The Daily Beast

"A beautiful, complex journey....Ideal for book clubs...it's filled with rich, luminous prose, and its deceptively delicate plot and pacing provide ample topics for discussion." (Rating: 5 out of 5)
-Carrie LaGree, Bookbrowse.com

"Vida's rich imagery and deep, skillful dives into tangled emotions will keep you riveted."
-Daily Candy Chicago

"There's a certain genre in fiction; the 'woman traveling alone in foreign country when things start to go wrong' story...not every writer can capture...that sense of impending doom and suspense that is almost Graham Greenish. Vendela Vida has nailed it." (Rating: 5 out of 5)
-Linda Grana, Bookbrowse.com

"THE LOVERS pulls you out to sea with a masterful hypnosis. I was so enthralled by the grief, the sticky and sandy details, and especially the perfect articulation of feminine self-awareness that I didn't realize how deep in I was. I read the last page with a tearful gasp."
-Miranda July, author of NO ONE BELONGS HERE MORE THAN YOU

"Vida shows she's supremely talented at tracing the drifts of memory and emotion that course through a person...clear, simple prose...An elegant consideration of how death and distance tightens human connections—a big theme that Vida addresses with sure-footedness and charm."
-Kirkus Reviews (starred review)

"Vendela Vida's The Lovers is a spare and haunting meditation on how travel can bring us full circle back to the place from which we should have started. I read it over two days and dreamed about it the second night."
-Francine Prose, author of GOLDENGROVE

"A brilliant, topsy-turvy, twenty-first-century variation on E. M. Forster's A PASSAGE TO INDIA...Vida creates an atmosphere at once molten and chilling as she deftly exposes the wounding reverberations of timeless conflicts between men and women, parents and children, East and West, appearance and truth."
-Booklist

"Vida is an elegant, droll writer who gets the strangeness and self-consciousness of traveling alone just right....[THE LOVERS] deserves a place right up there beside [Marguerite Duras's THE LOVER], for it too is a slender and necessary book of great depth and reach."
-Vanity Fair

"Vida's work becomes clearer and more sophisticated with every book she writes; and THE LOVERS is her best and most disturbing novel yet."
-San Francisco Chronicle

"THE LOVERS is somber, seductive, reflective, unsettling. All our lives are journeys...[and] hopefully, we shed some of our ignorance along the way. Vida writes—so beautifully!— about this process."
-Washington Post

"[Vida's] third novel is further evidence that she can fashion characters as unpredictable as they are endearing...[THE LOVERS] is a satisfying, often brilliant portrait of a woman searching for relief from things that will not, she discovers at last with something like acceptance, go away."
-New York Times Book Review