Guyland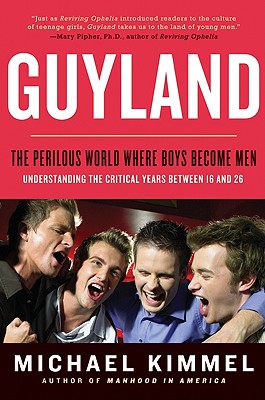 Guyland
The Perilous World Where Boys Become Men
HarperTorch, Paperback, 9780060831356, 332pp.
Publication Date: October 2009
* Individual store prices may vary.
Buy Now
or
Shop Local
Enter your zip code below to purchase from an indie close to you.
Description
The passage from adolescence to adulthood was once clear. Today, growing up has become more complex and confusing, as young men drift casually through college and beyond hanging out, partying, playing with tech toys, watching sports. But beneath the appearance of a simple extended boyhood, a more dangerous social world has developed, far away from the traditional signposts and cultural signals that once helped boys navigate their way to manhood a territory Michael Kimmel has identified as "Guyland."
In mapping the troubling social world where men are now made, Kimmel offers a view into the minds and times of America's sons, brothers, and boyfriends, and he works toward redefining what it means to be a man today and tomorrow. Only by understanding this world and this life stage can we enable young men to chart their own paths, stay true to themselves, and emerge safely from Guyland as responsible and fully formed male adults.
About the Author
Michael S. Kimmel is Professor of Sociology at SUNY at Stony Brook. His books include "Changing Men" (1987), "Men Confront Pornography" (1990), "Mens Lives" (4th edition, 1997), "Against the Tide: Profeminist Men in the United States", "1776-1990" (1992), "The Politics of Manhood" (1996), and "Manhood: A Cultural History" (1996). In addition to the journal Men and Masculinities, he also edits a book series on Men and Masculinity at the University of California Press, and the Sage Series on Men and Masculinities. He is the Spokesperson for the National Organization for Men Against Sexism (NOMAS) and lectures extensively on campuses in the U.S. and abroad.
Praise For Guyland…
"[A] deft exploration grounded in research....Kimmel offers a highly practical guide to male youth."
-Publishers Weekly

"Engaging...provocative....The book raises important questions....A useful, highly readable overview of an important social phenomenon."
-Kirkus Reviews

"Michael Kimmel's Guyland could save the humanity of many young men-and the sanity of their friends and parents-by explaining the forces behind a newly extended adolesence. With accuracy and empathy, he names the problem and offers compassionate bridges to adulthood."
-Gloria Steinem

"Just as Reviving Ophelia introduced readers to the culture of teenage girls, Guyland takes us to the land of young men."
-Mary Pipher, Ph.D., author of Reviving Ophelia

"An absolute bombshell of a book. A disturbing, but mandatory wake-up call for all of us who are boys, love boys or raise boys."
-Madeline Levine, Ph.D., author of The Price of Privilege: How Parental Pressure and Material Advantage are Creating a Generation of Disconnected and Unhappy Kids

Kimmel calls on us all to see the boy in the pseudo-man, to break the silence with which we surround them, and do what it takes to help them grow into real men."
-Arlie Hochschild, author of The Second Shift, The Time Bind, and The Commercialization of Intimate Life

"For anyone who has ever longed to know what's really going on in a young man's life, rejoice: Guyland is a compassionate, unflinching dispatch from deep in the heart of young masculinity. Required reading for people who raise, teach, and love guys."
-Rachel Simmons, author of Odd Girl Out: The Hidden Culture of Aggression in GirlsRachel Simmons, author of Odd Girl Out: The Hidden Culture of Aggression in Girls

"Every parent who is about to write a check for college tuition should read this book first and discuss it with his or her son...and daughter."
-Michael G. Thompson, Ph.D., co-author of Raising Cain: Protecting the Emotional Life of Boys

"Guyland takes up where Real Boys left off...a must-read for parents, teachers, coaches, young women who are so confused by the guys in their midst-and for guys themselves who yearn to break free of unwritten rules that leave them half a man, rather than a whole person."
-William Pollack, author of Real Boys