Day In Day Out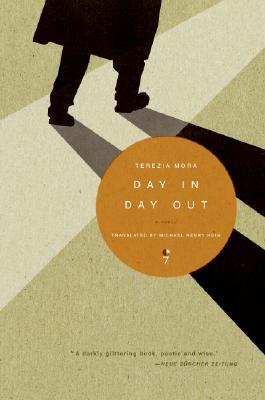 Day In Day Out
Harper Perennial, Paperback, 9780060832643, 432pp.
Publication Date: September 1, 2007
* Individual store prices may vary.
Not Currently Available for Direct Purchase
or
Shop Local
Enter your zip code below to purchase from an indie close to you.
Description
In a scruffy park of a West European metropolis, a man in an ill-fitting trench coat is found hanging by the feet, half-dead.
This is Abel Nema, the enigmatic yet fascinating protagonist of Terézia Mora's internationally acclaimed novel, a linguistic phenomenon who can speak ten languages flawlessly but whose grip on reality is slowly slipping away. Since his self-imposed exile from his Balkan homeland ten years earlier, he has been making a life among fellow refugees: a group of bohemian jazz musicians, an eccentric student of ancient history, and a gang of young Gypsies. His acquaintances among the locals include a neighbor who claims to have visited heaven (and introduces Abel to hallucinogens), the sordid characters who frequent the neighborhood sex bar, and a wonderfully zany family he joins when, desperate to extend his residency permit, he enters into a fictive marriage. Yet through it all he remains strangely hollow: for all his languages he has little humanity to put into words.
Day In Day Out, Terézia Mora's fierce and beautiful debut novel, is at once an evocation of the newly multicultural Europe and an exploration of a deeply disturbed individual. It is a prose labyrinth of rare poetic force that marks its author as a major new voice in contemporary fiction.
About the Author
TerÉzia Mora was born in 1971 in Sopron, Hungary. In 1990 she moved to Berlin, where she studied theater arts and screenwriting. Since 1998 she has worked as a freelance writer and translator of contemporary Hungarian novelists, notably PÉter EsterhÁzy. Her first book, Strange Material (Seltsame Materie, 1999), received rave reviews; one of its stories won the prestigious Ingeborg Bachmann Prize (1999). Day In Day Out (Alle Tage, 2004) represents her debut as a novelist; it was chosen the best German novel of the year at the Leipzig Book Fair. She is widely recognized as one of the most noteworthy voices of her generation.