Sweet Dreams/Dulces Suenos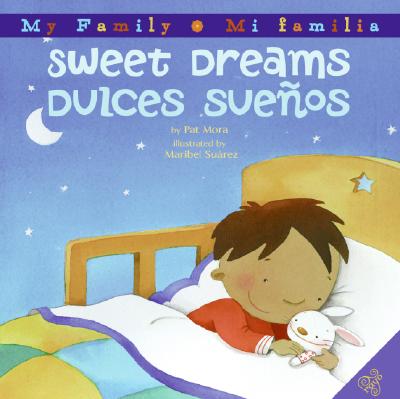 Sweet Dreams/Dulces Suenos
Rayo, Hardcover, 9780060850418, 24pp.
Publication Date: May 2008
* Individual store prices may vary.
Buy Now
or
Shop Local
Enter your zip code below to purchase from an indie close to you.
Description
Shh, shh, close your eyes. Shh . . . shh . . . Cierra los ojitos.Outside, the rabbits are sleeping, Afuera, los conejitos estan durmiendoand the birds, and the squirrels.junto con los pajaritos, y las ardillas.Inside, Grandma tucks us snugly into bed.Adentro, Abuelita nos da las buenas noches.The stars and moon are shining bright.Las estrellas y la luna brillan.
Sweet dreams Dulces suenos
As warm and comforting as a grandmother's voice, this endearing book in the My Family/Mi familia series makes bedtime a soothing family tradition.
Este encantador libro de la serie My Family/Mi familia, tan calido y reconfortante como la voz de una abuela, ayuda a convertir la hora de dormir en una armoniosa tradicion familiar.
About the Author
Pat Mora is an award-winning author and the founder of the family literacy initiative El dia de los ninos/ El dia de los libros, Children's Day/ Book Day, now housed at the American Library Association. She lives in Santa Fe, New Mexico.
Pat Mora es una autora premiada y la fundadora de El dia de los ninos/ El dia de los libros, un programa para promover la lectura entre familia. El programa es auspiciado por la Asociacion Americana de Bibliotecas, American Library Association (ALA). Ella vive en Santa Fe, Nuevo Mexico.
Maribel Suarez has been illustrating books since 1985. She lives in Mexico City with her three children.
Maribel Suarez ilustra libros desde 1985. Ella vive en la Ciudad de Mexico con sus tres hijos.