The Breakaway Cook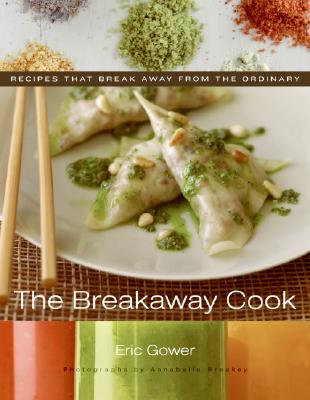 The Breakaway Cook
Recipes That Break Away from the Ordinary
William Morrow & Company, Hardcover, 9780060851668, 224pp.
Publication Date: May 1, 2007
* Individual store prices may vary.
Not Currently Available for Direct Purchase
or
Shop Local
Enter your zip code below to purchase from an indie close to you.
Description
Fusion cooking broke the rules firstnow Gower's breaking fusion's rules with The Breakway Cook. Despite the explosion of farmers' markets, ethnic grocers, and creative restaurants in America, lots of home cooks remain puzzled by the bewildering array of choices, and don't have the confidence to break away from tradition. Eric helps home cooks everywhere approach unfamiliar ingredients from different global regions and combine them for some amazing results of flavor.
"Breakaway" cooking pays homage to culinary traditions yet uses innovative techniques and ingredients to give home cooks a new approach to their dishes, marrying unintimidating flavors with the old standards. Sample his Miso Orange Pepper Roasted Chicken, or tease your tongue with his take on Fluffy Herby Eggs, and you'll be convinced. It's not fusionit's fusion that makes sense. And the cardinal rule is to season with authority. Don't be afraid of the spice cabinet anymore, and use presentation to create a simple, appealing meal. Spend less time fussing about the preparation and cleanup, and more time enjoying food and its huge role in our daily lives. To further this quick and mindful approach to cooking, Eric will take us shopping in local and ethnic markets, teach the importance of table setting and presentation, and stress visual aesthetics, especially regarding pottery and ceramics.
Eric helps you reconstruct your approach to the kitchen, highlighting the seasonings and essential ingredients or "Global Flavor Blasts," such as tamarind, pomegranate molasses, miso, yuzu, green tea, Chinese plum sauce, mole, among many others, that will liberate your cooking and provide a lifetime of fantastic eating. Using Gower's recipes as broad outlines, you can be creative as you go, and within his framework you will discover your own genius in the kitchen. We feel better when we eat better, and it's easier to be productive, creative, and relaxed when the food part of life is under control. Enter The Breakaway Cook.
In addition to the recipes, The Breakaway Cook includes stunning, fullcolor photos by Annabelle Breakey throughout the text; a guide to using flavored salts in your dishes; sidebars on wine, tea and sake; and ideas for even shortercuts on Gower's easytofollow recipes.
About the Author
Eric Gower lived in Japan for fifteen years, working for the prime minister's office as an editor and writer on political economy before turning his interest to food. Currently a private chef and the author of two previous cookbooks, Eric's Kitchen and The Breakaway Japanese Kitchen, he lives and works in San Francisco.

Melissa Gray is a producer for National Public Radio's All Things Considered.