The Traveling Death and Resurrection Show: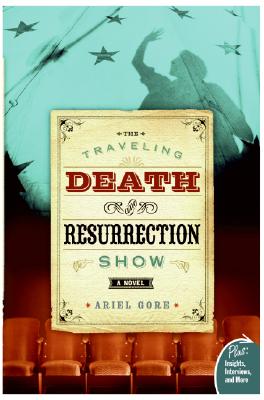 The Traveling Death and Resurrection Show:
HarperOne, Paperback, 9780060854287, 234pp.
Publication Date: May 2, 2006
* Individual store prices may vary.
Buy at Local Store
Enter your zip code below to purchase from an indie close to you.
or
Buy Here
Description
Orphaned at age four and raised by her black-clad, rosary-mumbling, preoccupied grandmother, Frankka discovered the ability to perform the stigmata as a way to attract her grandmother's attention. Now twenty-eight, Frankka's still using this extraordinary talent, crisscrossing the country with "The Death and Resurrection Show," a Catholic-themed traveling freak show and cast of misfits who have quickly become her new family. But when a reporter from the Los Angeles Times shows up to review the show, Frankka finds herself on the front page of the newspaper -- the unwitting center of a religious debate. Now unsure of who she is and where she belongs, Frankka disappears in search of herself and a place to call home.
Praise For The Traveling Death and Resurrection Show:…
"A bold and imaginative story."
-Michelle Tea, author of Rose of No Man's Land and Valencia

"This novel is a miracle—deliciously subversive and deeply spiritual, all at once."
-Gayle Brandeis, author of Fruitflesh: Seeds of Inspiration for Women Who Write, and The Book of Dead Birds: A Novel

"Finally! A new batch of icons, provided by Ariel Gore in this fun, readable, adventure story."
-Jennifer Blowdryer, author of White Trash Debutante and Good Advice for Young Trendy People of All Ages

"With a dash of Catholic mysticism mixed with the underground freak show scene, Gore creates a fascinating and inventive odyssey."
-Beth Lisick, author of Everybody into the Pool

"Inventive, loopy, and warm, Gore's debut novel is shot through with one-liner gems..."
-Joy Castro, author of The Truth Book

"[A] savvy rebuke of religious bigotry and a fun, fast, memorable read. Highly recommended."
-Library Journal

"[An] earnest but fresh journey through the travails of a performing stigmatic."
-Publishers Weekly

"An affecting tale about the search for home, connection and authenticity."
-Christopher Castellani, author of The Saint of Lost Things

"Piercing and insightful, Gore's first novel limns one woman's complicated relationship with her religion and her personal faith."
-Booklist

"Incredibly satisfying!"
-Stacie Williams, Harry W. Schwartz Bookshop, Milwaukee, WI

"A beautiful tale of spiritual self-discovery. … that is respectful of religion even as it pokes fun at it."
-Seattle Magazine

"As stories about Catholicism-heckling mystical punk circuses go, this is the best."
-San Francisco Weekly

"A compelling premise. …beautiful passages...."
-The Oregonian (Portland)

"Great buzz with its blend of outlandish characters, outsized happenings and surprising takes on Catholic faith."
-Seattle Post-Intelligencer

"A modern passion play that compares favorably to the rotating scenes of Santa Cruz street life."
-The Santa Cruz Sentinel

"Ariel Gore's debut novel is a hilarious tale of levitating drag queens, spontaneous stigmata, and bearded ladies."
-Bust Magazine

"Gore is a spirited and imaginative storyteller; her words sparkle with life and carry the reader along …."
-Arkansas Democrat-Gazette

"A beguiling first novel..."
-Los Angeles Times

"A story of religious reawakening that's at times irreverent, yet accepting of tradition and faith."
-Relevant Magazine