Out of Oz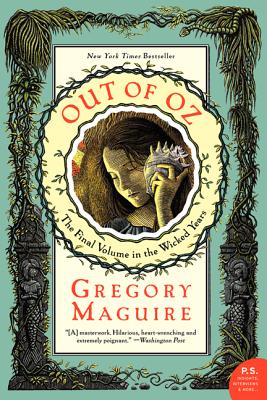 Out of Oz
William Morrow & Company, Paperback, 9780060859732, 568pp.
Publication Date: October 2, 2012
* Individual store prices may vary.
Buy Now
or
Shop Local
Enter your zip code below to purchase from an indie close to you.
Description
Once peaceful and prosperous, the spectacular Land of Oz is knotted with social unrest: The Emerald City is mounting an invasion of Munchkinland, Glinda is under house arrest, and the Cowardly Lion is on the run from the law. And look who's knocking at the door. It's none other than Dorothy. Yes. That Dorothy.
Yet amidst all this chaos, Elphaba's granddaughter, the tiny green baby born at the close of Son of a Witch, has come of age. Now it is up to Rain to take up her broomand her legacyin an Oz wracked by war.
The stirring, long-awaited conclusion to the bestselling series begun with Wicked, Out of Oz is a magical journey rife with revelations and reversals, reprisals and surprisesthe hallmarks of the unique imagination of Gregory Maguire.
About the Author
Gregory Maguire is the New York Times bestselling author of Confessions of an Ugly Stepsister; Lost; Mirror Mirror; and the Wicked Years, a series that includes Wicked, Son of a Witch, A Lion Among Men, and Out of Oz. Now a beloved classic, Wicked is the basis for a blockbuster Tony Award winning Broadway musical. Maguire has lectured on art, literature, and culture both at home and abroad. He lives with his family near Boston, Massachusetts.
Praise For Out of Oz…
"[A] sassy reimagining of Baum's world. . . . Maguire's canvas is incredibly rich. . . . This last installment is one to savor."
-People magazine (4 stars)

"[A] masterwork…. Concludes…one of the most audacious and successful fantasy series of the past few decades…. Hilarious, heart-wrenching and extremely poignant…. The greatest fantasy series make one want to read them again. That's what I intend to do with this one."
-Washington Post

"In four books, Maguire has expanded the mythology of Oz from L. Frank Baum's books and created a land that's just as rich as Middle-earth or Narnia, and balances the serious with the sublime. . . . Out of Oz is a satisfying finish to the Wicked Years saga."
-USA Today

"Maguire creates a world we can bear, just around the corner. He does this . . . with delicious writing; a tapestry of sentences so carefully imagined they brush over your skin as you read."
-Newsday

"Maguire has crafted a complex, detailed Oz...; populated it with a wide range of characters and histories; created complex, layered plots; and dropped in some magic to bring it all together. His Oz envelops a reader in a feast for the senses and for the mind."
-Wichita Eagle

"A captivating storyteller. . . . Maguire pays subtle homage to Tolkien and Rowling and even Frank Baum while having a grand old time in the fantastically complicated world he has crafted. . . . Action-filled. . . . [a] deliciously fun novel."
-Kirkus Reviews (starred review)

"(A) satisfying finale to Maguire's series."
-Christian Science Monitor

"A worthy conclusion to an imaginative and emotionally searing cultural phenomenon. . . . nobody does fractured fairy tales better than Maguire."
-Booklist

"Engrossing, complex . . . continues to flip the world of Oz on its head while answering new and old questions about Oz and its denizens. Highly recommended."
-Library Journal (starred review)

"[OUT OF OZ] will delight Maguire's legions of fans, but will surely seduce a whole new world of readers, who can start at the end and go backwards in time to WICKED to understand the breadth and amazing imaginative landscape of his remarkable work."
-Bookreporter.com

#9 New York Times Bestseller
-New York Times